Discover more from Free Thinking Through the Fourth Turning with Sasha Stone
A rumination on the collapse of culture on the left. Is it really that bad? Yes, it is really that bad.
Over 13,000 subscribers
AOC's Double Standard on Abuse
She had every right to speak up for herself but what about everyone else?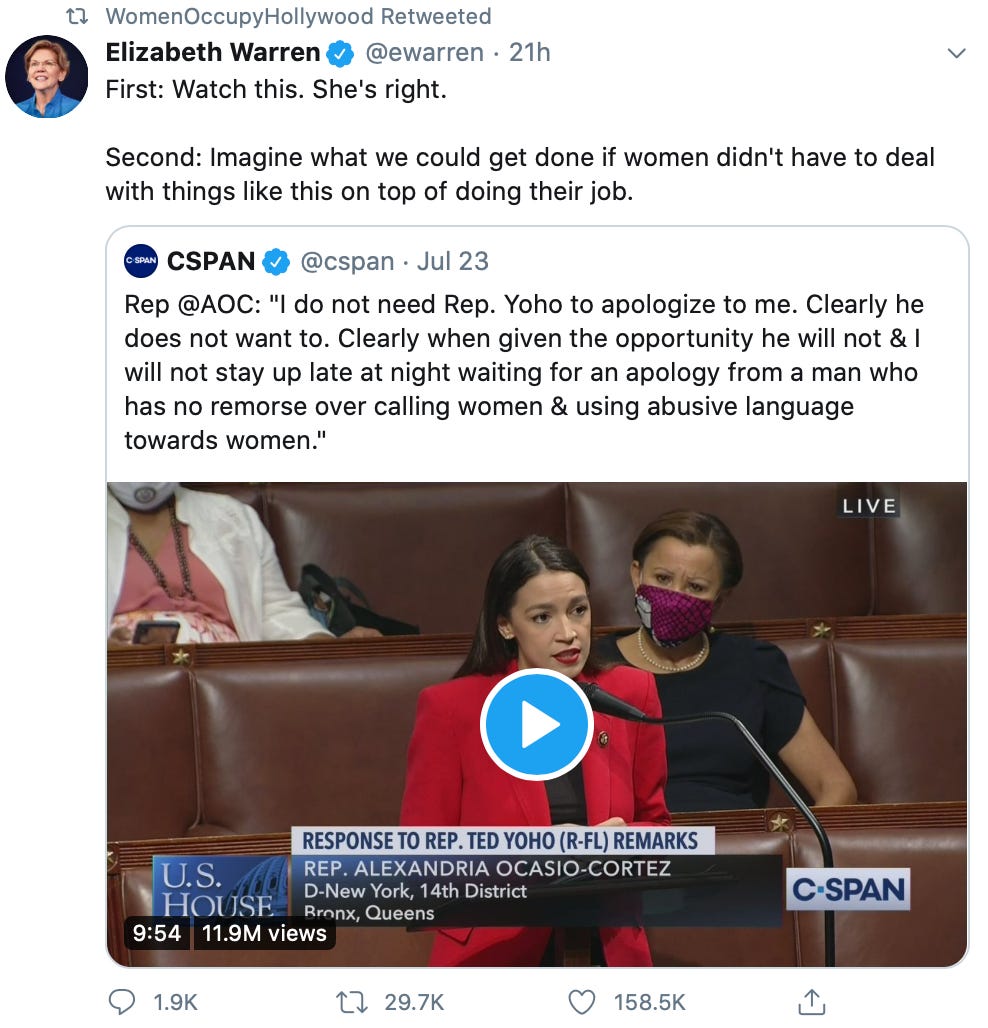 When a congressman said out loud what many people probably say in private about Alexandra Ocasio-Cortez, hissing out the slur, "fucking bitch" she rightly called him out in congress the way she would on Twitter. And of course, she was hailed as a hero fighting misogyny and bigotry. No one can bring the glowing coverage on the left like AOC. And no one can bring the hatred on the right as AOC. She is a Hillary-like firebrand who is as good at driving the media narrative on Twitter as Trump is. Hillary didn't have social media back in the day, and probably it would be the stand in for an army of support, as it is with AOC.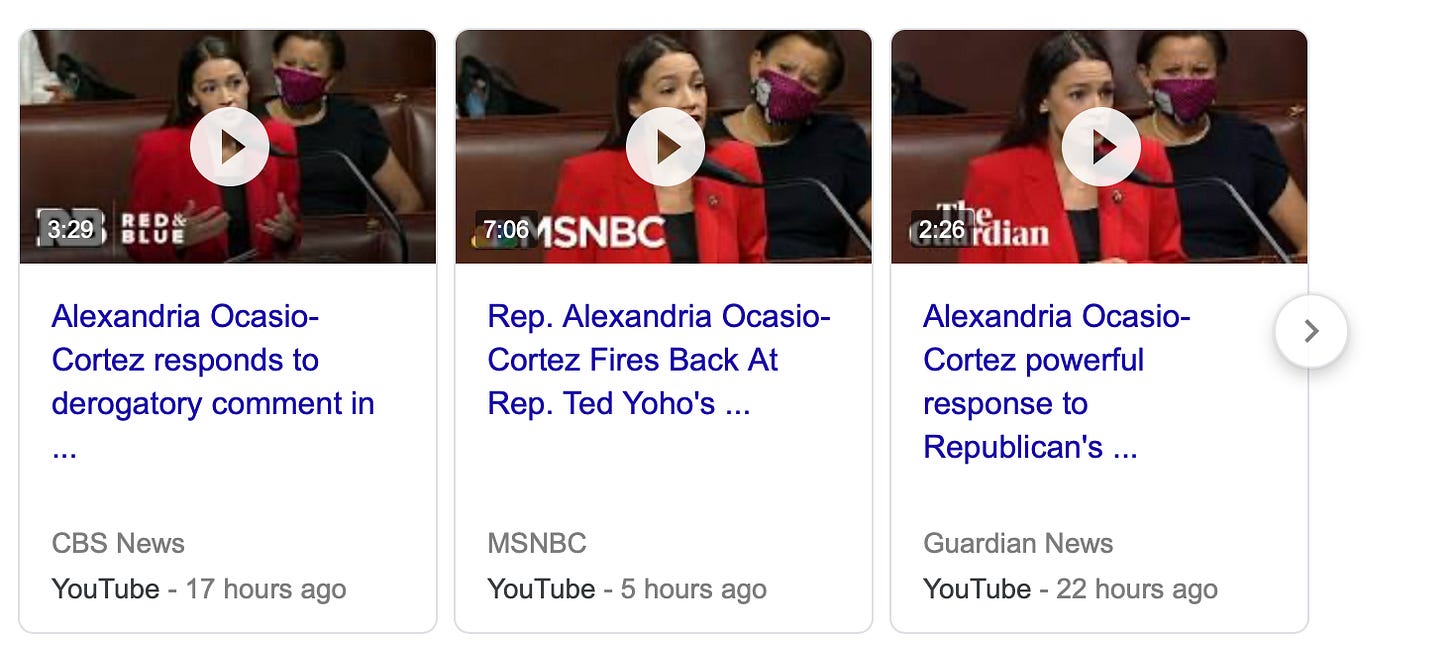 The only problem is, just a few days earlier AOC not only defended "cancel culture," but seemed to speaking about it like it should be the norm, edging way too close to government overreach. How you feel about "cancel culture" will determine what your reaction to that will be. Most on the left, at least online, are deeply embedded in the bubble. That means that you will see "cancel culture" as "holding people accountable" for the "bad" things they've done. But that isn't the danger of cancel culture. What that has become is a silencing of dissent, differences of opinions and, frankly, sanctioning ongoing bullying and dehumanization online.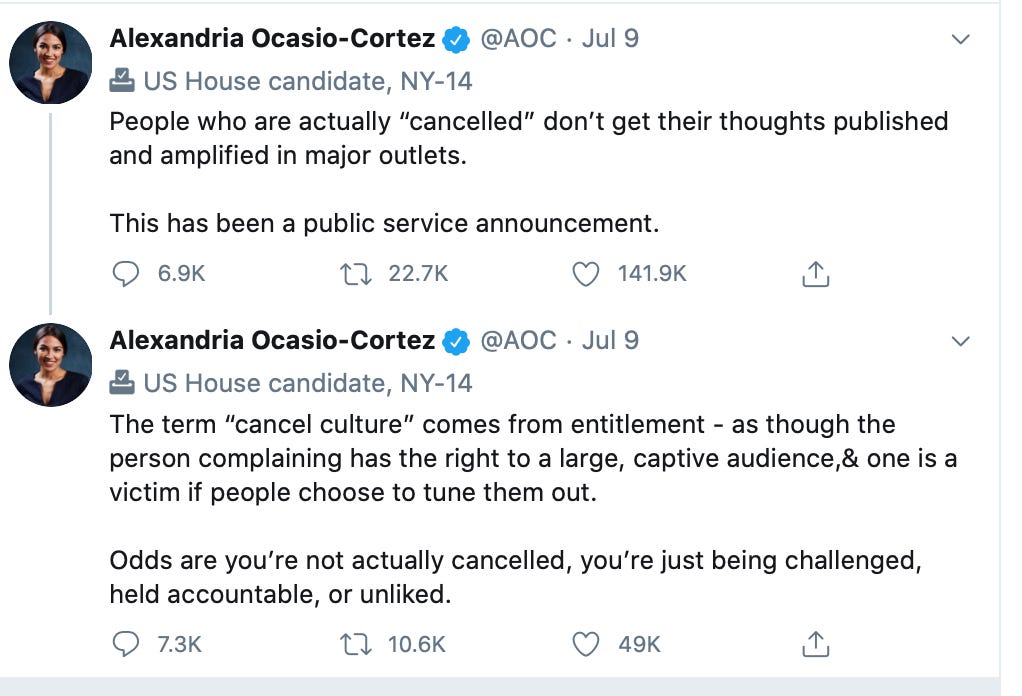 "Cancel culture" is why 62% of Americans are afraid to say what they really think online. If you stand against abuse, AOC, should you not also stand up against a culture of abuse, which is what "cancel culture" has become. For all of the examples of "holding people accountable" that exist, the larger percentage is just Twitter using its temporary power to shame and humiliate and degrade a chosen sacrifice for the day. It doesn't really matter who it is. It is usually someone who has offended someone in some way. And because one person was offended, that makes the act OFFENSIVE, which means Twitter is justified in all manner of verbal abuse, threats and bullying. I know, it has happened to me over the most trivial of things.
AOC and others willfully deny any of this exists, but they can't explain why 62% of people feel afraid to say what they really think. Or why Ben Shapiro's podcast is so popular or his latest book is a bestseller. Or why Fox News' Tucker Carlson show is the most watched cable news show in the history of the world. Cancel Culture takes the arena of public humiliation and turns it into sport. How is this "holding people accountable" or improving the lives of anyone?
The two biggest problems with "cancel culture" is that it leads to dehumanization, bullying and cruelty that AOC supposedly stands up against , and it leads to the stifling of free and open expression, as this piece in Quillette lays out:
The key elements of cancel culture, therefore, are that: the individual or group calling for the cancellation puts pressure on some third party to impose sanctions on the putative transgressor; and that he or she does so because others perceived that they were psychologically or emotionally harmed by the transgressor's speech (or historical actions). Examples of cancel culture include: protests to prevent a lecture from taking place; open letters to demand someone be removed from a list of fellows; and co-ordinated action on social media to get another user banned.
He ends it with:
To sum up, there is such a thing as cancel culture, and the arguments put forward by the anti-anti-cancel culture petitioners are not very convincing. In his famous essay On Liberty, the liberal philosopher John Stuart Mill warned against "the tendency of society to impose, by other means than civil penalties, its own ideas and practices as rules of conduct on those who dissent from them". His words remain as true today as they were in 1859.
AOC might be the future of the Democratic Party. She might be. I don't know. But if she is, this disconnect, this double standard is going to be a problem. Many of the same people who would support the policies she fights for and agree with her confrontation of a fellow congressman, do not want policing of speech, ideas, opinions, art, and science anywhere near our government.
The majority does not support it, they're just not saying so online for fear of retribution. Is that the America anyone except a loud minority wants?
Democrats do have a chance to take all three branches of government and make real change but if AOC continues to make cancel culture POLICY and no one disagrees with her, and in fact, backs her up, eventually power will likely cede to the right, as that 62% silent number suggests.