Discover more from Free Thinking Through the Fourth Turning with Sasha Stone
A rumination on the collapse of culture on the left. Is it really that bad? Yes, it is really that bad.
Over 13,000 subscribers
Fear and Loathing in a Country Without Objective Journalism
Hunter S. Thompson is rolling in his grave
It is the job of journalists to deliver the truth good and hard. But lately, we've lost that guiding light in the united effort to elect Joe Biden and defeat Donald Trump. There is no other way to see it. Trump declared war on the press, calling The NY Times "failing" and CNN "fake news" and Comcast "concast" so why would they not fight back and use their outlets to bring him down? Because that isn't their job.
There is something else going on and that is massive social media platforms that encourage conformity and discourage dissent. That means, if you post a positive story about Democrats and a negative story about Trump you will be rewarded with retweets, shared and clicks - all of the metrics used to quantify success for journalists. It was never supposed to be like this.
What we have cultivated is a false reality on the left and one that won't end when or if Joe Biden becomes the President on November 3. I'd like to hope that Biden would find a way to bridge the divide in this country of two sides that hate each other. I do not have confidence that he can because the hatred is just too strong. At this point we really do seem to be headed for actual war and if Trump wins I do believe we will see an uprising on the streets like we've never seen before, something like a real revolution.
There is zero chance people on the left will accept Trump's victory, the reason being to most of us on the left the people who support him do not exist. If they exist at all they are hillbilly racists clinging to their guns and religion. They are undesirables, deplorables, to be blotted out and erased. We can't fathom that there could be any other kind of reality in this country because we all only know our own and our media only serves us our own. And there are millions of them. There is a whole world that rejects our reality on the left but because we control the largest platforms we are forcing them to comply or else. This isn't going to end well.
The press was blamed for Hillary's loss in 2016. They aren't taking the risk this time around so they've lost their credibility in a few short months in order to join Big Tech, the Democrats, and the Never Trumpers to install a US president by suppressing negative news and vetting only one of the two candidates.
This election should be an example of what people call the "deep state." You are watching it reveal itself in the light of day. Establishment republicans want Trump gone. They also know the left is too unstable to really lead America into the future - and believe me, they are terrified if that reality should come to pass. They know they can't rule with Trump in their way because he is treating the government like a teardown. The 2020 election is not really about 2020. It's about 2024.
It is about who will lead this country once the left inevitably collapses, which it likely will considering just how crazy we've become just in the last five months, let alone the last four years. I do not believe for a second that any of the Lincoln Republicans or Never Trumpers believe in the left leading America out of darkness. I think they are using the Democrats to get Trump out of the way and that the established order will return to rule for the foreseeable future. That's my prediction and I'm sticking to it.
So why Hunter S. Thompson all of a sudden? Because I finally finished Fear and Loathing on the Campaign Trail and in it I heard such a fresh voice ready and able to deliver the truth without fear of being publicly shamed or humiliated on Twitter. He was writing about a culture in transition, turning its back on the hippies and counter culture revolutionaries because they were just too damn chaotic. Thompson was one of them but he was smart enough to know that.
Nixon was the shockwave, like Trump is the shockwave. But the left was dying then, as it is now, and readying itself to eventually give way to a pendulum shift. Back then, it would be Ronald Reagan in 1980 after Jimmy Carter's one term. Now, who knows. Some establishment republican probably. Just as we had to rid our system of JFK's America so too will we eventually have to rid ourselves of Obama's America because it has become too strident, almost totalitarian - when even the Oscars are being micromanaged you know something has really shifted. But it can't last. Trump's supporters are not going to disappear magically and be replaced by a million AOCs.
America, like information, wants to be free and thus, the left is headed for collapse whether is on November 3rd or 2024. We are asking the country right now to take a step backwards to the former administration. This has never happened in the history of the country. In 1972 Nixon, Ike's former veep, was put in power to restore the silent majority. But really he was the first strike against the counter culture left in the battle for America's soul.
I can't help but think about Thompson covering this race in all of its hypocritical bloated ugly glory - where Wall Street is donating so much money to Biden's camp and the left says — wait for it — not a damned thing. Thompson as a McGovern supporter - he hated Hubert Humphrey and here is what he wrote in 1972:
Wisconsin is the site of the next Democratic primary. Six serious candidates in this one—racing around the state in chartered jets. Spending Ten Grand a day for the privilege of laying a series of terrible bummers on the natives. Dull speeches for breakfast, duller speeches for lunch, then bullshit with gravy for dinner.

How long, O Lord… How long? Where will it end?

The only possible good that can come of this wretched campaign is the ever-increasing likelihood that it will cause the Democratic Party to self-destruct. A lot of people are seriously worried about this, but I am not one of them.

I have never been much of a Party Man myself… and the more I learn about the realities of national politics, the more I'm convinced that the Democratic Party is an atavistic endeavor—more an Obstacle than a Vehicle—and that there is really no hope of accomplishing anything genuinely new or different in American politics until the Democratic Party is done away with.

It is a bogus alternative to the politics of Nixon: A gang of senile leeches like George Meany, Hubert Humphrey, and Mayor Daley… Scoop Jackson, Ed Muskie, and Frank Rizzo, the super-cop Mayor of Philadelphia.

George McGovern is also a Democrat, and I suppose I have to sympathize in some guilt-stricken way with whatever demented obsession makes him think he can somehow cause this herd of venal pigs to see the light and make him their leader… but after watching McGovern perform in two primaries I think he should stay in the Senate, where his painfully earnest style is not only more appreciated but also far more effective than it is on the nationwide stump.
I think about how Thompson would cover Kamala Harris without fear of being called a racist for criticizing her, or Biden's age, or the suddenly pretend-left Republicans like Jennifer Rubin, or how he would talk about Trump, Trump's rallies and his supporters. We do not have that kind of unflinching objective eye anymore, at least not in the mainstream. And certainly not on the left.
On second thought, maybe it's better he not be here to witness this collapse of objectivity in journalism at last. It barely survived the clickbait model. Social media it was no match for. Safety-ism is what finally did them in for good. Or maybe it was just plain old fear. Fear of losing their jobs, their status, their friends. Fear of being bullied on Twitter as a trending topic, like Maggie Haberman who became "Maga Haberman."
If Thompson were alive he'd have been canceled. If the folks on the left ever read Fear and Loathing on the Campaign Trail they would see that he uses many words that can't be said today. He'd be called a racist and the book would be banned from schools and libraries. But maybe he, like so many of the other actual journalists - Matt Taibbi, Glenn Greenwald, Andrew Sullivan, Katie Herzog and Megyn Kelly - would find an alternative avenue to deliver information and though he would not use the same language he used back in 1972, you can bet he'd be telling you the hard cold ugly truth about the insane reality we're living through.
When I think about the press now in the months since they symbolically neutered themselves to please the hoards of shrieking tweeters I think about a line Hunter S. must have said a lot, and I say it to my daughter a lot because it is helpful to understand Woke-Speak, "you can't piss on my leg and tell me it's raining." Everyone can plainly see that it is not raining so why are you telling me that?
There were no violent protests. They were mostly peaceful. Repeat it like a mantra and do not deviate from it. COVID was so frightening we all went into lockdown, until we didn't. Then the only thing that mattered is whether we wore masks or not. That separated the goodies from the baddies. They were not super spreader events! Even though contact tracers were ordered not even to ask if they'd attended a protest. James Bennett did not get fired because the Tom Cotton op-ed was against the narrative on the left but because it was "not up to the standards of the Times." Nothing to see here, move along.
Despite trying to shut out the Hunter Biden story - whether it was bogus or not, censoring it was wrong - people will want to get the story and if they can't get it at the Times or the Post or NPR or CNN or MSNBC they're going to go to Fox News.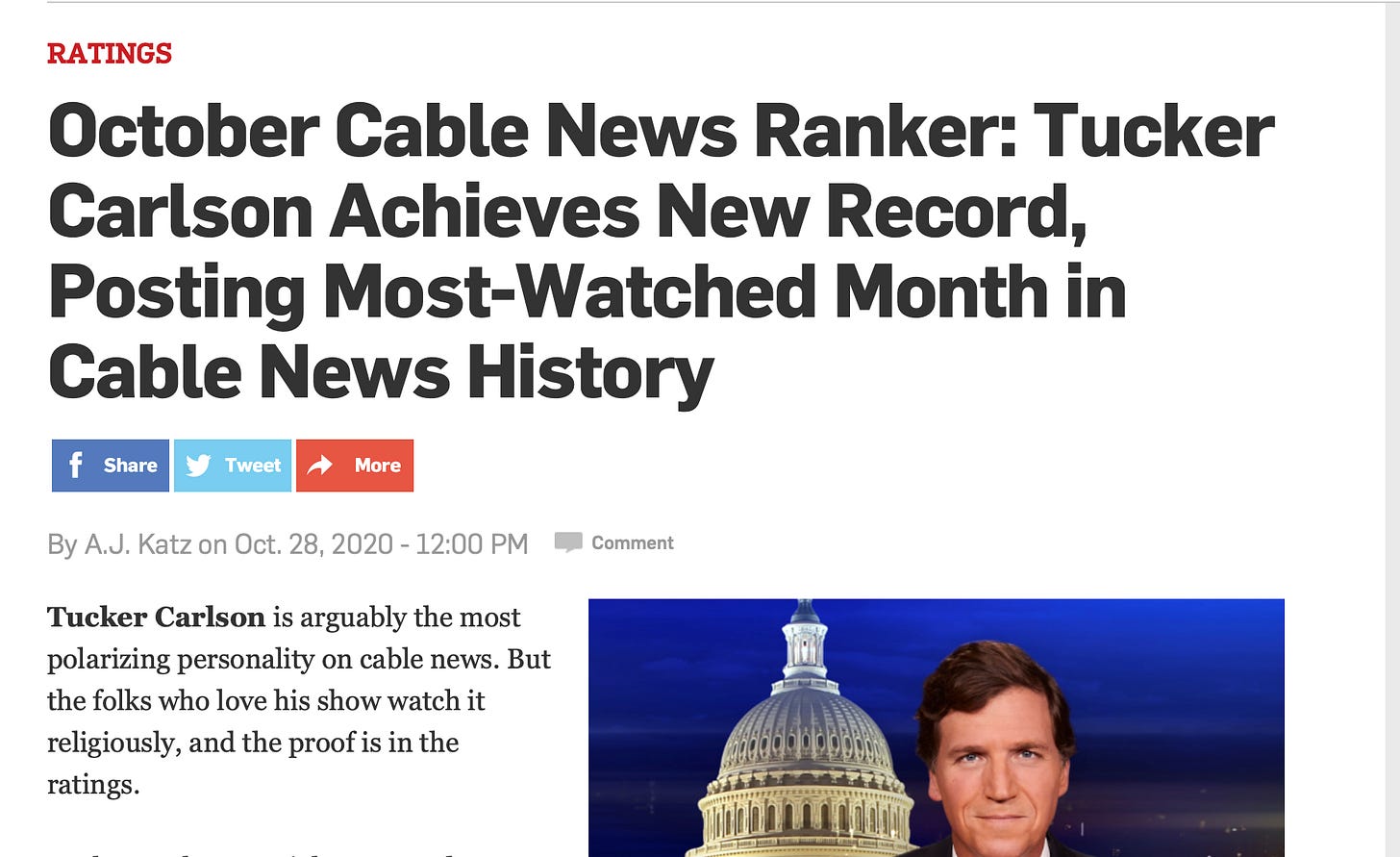 On Megyn Kelly's podcast Piers Morgan says his interview with CNN was canceled after he said they were wrong to not report on this story. And he agrees that CNN has become like MSNBC - which any reasonable person would conclude and would explain why their ratings are sagging.
Biden and Harris barely show up anywhere and are doing most of their campaigning via social media.
It reminds me of this scene in Sleeper where Woody Allen and Diane Keaton are pretending to be doctors who are going to close the President with just his nose. That was the year after Nixon was elected in 1972 and hope was sinking fast.
There was one side by side of Biden trotting gently down a flight of stairs to an awaiting group of dutiful puritans sitting inside their drawn circles and politely clapping next to Trump's descent into a sea of cheering fans as his massive helicopter dropped down for yet another devil-may-care rally. He's doing three a day. Biden is winning by doing mostly nothing. It is quite a sight to see. Do we even need leaders if we have hive minds and compliant media?
How can any journalist who calls themselves a journalist not notice nor comment on this stark juxtaposition? On the left you'd get a snooty clucking scolding and on the right you get righteous mocking laughter. This is where we are in the two Americas.
I was thinking about Hunter S. Thompson and how he would be covering this race and I know he would not be bending over backwards to satisfy an audience that has been coddled and protected from the truth. I know his impressions of Trump would be the stuff of writing prizes. But he would tell the truth. The whole bitter ugly/beautiful truth.
Good luck, America. We're going to need it.
It was never supposed to go like this.