Discover more from Free Thinking Through the Fourth Turning with Sasha Stone
A rumination on the collapse of culture on the left. Is it really that bad? Yes, it is really that bad.
Over 13,000 subscribers
Fear and Loathing in October, 2020
One month until Election Day
I genuinely do not know what is worse anymore. The actual reality we're living through or the reality being foisted upon us by the massive media machine committed to electing one president or the other. Put it this way: you know things are bad when the least biased news network is Fox. Trying to find anyone who will speak any kind of truth about anything is impossible. Everyday there is a new directive for the left. Find the one thing and attack attack attack. This has been true for four years running but it is most especially true right now, in the lead up to the election.
The funny part is, are we are doing is hurting our chances by making the election closer than it needs to be. How are we doing this? By revealing ourselves to be biased, hateful and petty. When I say "we" I mean the Democrats, or the left. And "we" is not really accurate since the other day I officially changed my registration to "independent" knowing that the left is headed into a pretty tough negotiation with its hard left faction. Biden and Harris might be moderates but the party's direction isn't. Policy wise I don't mind that. But it appears to be more than just policy now into the area of thought policing. Yes, the "woke" left threatens to overtake the moderate left. Will they succeed? I have no idea. But for now, my vote still goes to Biden.
The left has a credibility problem. It's nothing compared to Trump's, of course, where he outright lies to the public. He gets away with it in so far as it goes because he's always done it. He does it without a concern about whether it's right or wrong because to him it is only about winning or losing. And that is what politics is, of course, a game to win or lose.
What appears to be missing on our side is a reason to vote for Biden or a reason to vote for the Democrats other than hating Trump. Because that seems to be all we have: Trump is bad. Is that enough? Maybe. Probably. But I think the Democrats should leave the hatred and attacking to the Lincoln project and Never Trump republicans and use their energy to drive up enthusiasm and love for Team Blue. What are we offering Americans other than to remove Trump? Maybe that's all we need. Before COVID hit I believed that was our only play. A strong economy meant a second term for Trump. But now, in the post-COVID, post-protest America where do we stand? I think we might need more than just "Trump is bad."
Although now that Trump and those around him contracted COVID after holding a ceremony in the Rose Garden where most did not wear masks it might not matter. Americans might be just over it. Maybe they need a POTUS who will, at the very least, be careful with a global pandemic.
When I click on Twitter, which I am trying to do less and less of lately, all I see is intense, passionate hatred at Trump. Every single day a new chunk of bloody meat is tossed into the ring and used as a way of driving up Jack's revenue for a day. The next day we're onto something else. Biden's poll numbers have never been better so perhaps it's all working. Me, I'm opposed to dehumanization of any kind and can't go along with it, whether a person "deserves" it or not. Remember, "deserves" is in the eye of the beholder. Hitler sold a pretty strong message that the Jews "deserved" to be removed from their homes and put in concentration camps. That is an extreme example but hatred for the rich and law enforcement in the late 60s, early 70s was so bad that Charles Manson's murders were justified by the Weathermen as a revolutionary act.
We've been dehumanizing Trump, his entire family and anyone who supports him for four years running, feeling justified all the while. I rarely hear agreement on this, just yet more dehumanization and frothing hatred. The main justification is that they're all racists or white supremacists. Any white man who carries a gun to a protest is a white supremacist, unless of course they're on the left and then they are excused. You're expected to believe that, to go along with it and if you offer any objection to that you will be shouted down, shunned and targeted for stepping out of line. It is simply accepted truth. We treat them this way because they are all racists.
I happened to hear an interview with Sarah Huckabee Sanders recently and it flashed me back to how we made fun of her makeup, her looks, her weight. How we dehumanized her for being Trump's press secretary and having to back up whatever he told her to say. While fact checking her or calling out blatant lies was right, making fun of her makeup was not what I expected from my side. Turns out, that was nothing compared to how bad it's gotten. Did she deserve that? Most people I know would say yes, but I'm sticking with no. Some idiot kicking her out of the restaurant and her family to - also saying no to that. We lost the election by 70,000 votes and we did to Trump's side what they did to Obama for eight years straight. If it wasn't right when Obama was in power, it wasn't right when Trump was in power.
Sooner or later the pattern must stop and the American people's choice should be respected. We could at least pretend that is what we'll do. Is Biden going to be attacked non-stop for the next four years? Probably. Harris too. Will they be allowed to govern? Depends on who has the power. Look at how congress took both branches when they got mad at Obama's election. We're all so mad at each other all of the time over everything - how will either side ever be able to govern this country? Perhaps Bret Weinstein has it right with his idea of Unity - one candidate from each side of the aisle to govern.
If I could wave my magic wand and change the direction of the race right now I would shift the energy away from hatred and dehumanization and towards enthusiasm and hope for the future. I would give people something to vote FOR in times of such extreme trauma in the American collective. For Trump supporters that is what they have. They have it so strongly they were lining up outside Walter Reed hospital to show support for Trump. His relationship with his supporters is so strong that he got in a car and drove by them to wave back. Of course, you don't need me to tell you how that went down — to me, it's blinding unwavering enthusiasm.
So tell me, how can we get a little of that? Biden's traveling train is a good idea but without "Trump is bad" pitch what is left that isn't in the negative? Have we ever seen a POTUS win when the pitch is in the negative? How to shift that to a positive? How to sell decency when our entire party on the left is not exhibiting decency because we spend each and every day in attack mode? Restore calm? How do we do that if we're in hysteria mode each and every day over the latest thing Trump did? Restore Democracy - okay, by getting rid of the filibuster and packing the courts?
Maybe the only option here is to tune out and tune off, vote on November 3rd and the rest of the time try to be more kind to your fellow humans. Not to mention the animals. I myself wish I had something I believed in but right now I am finding not that much. It's pretty bleak out there.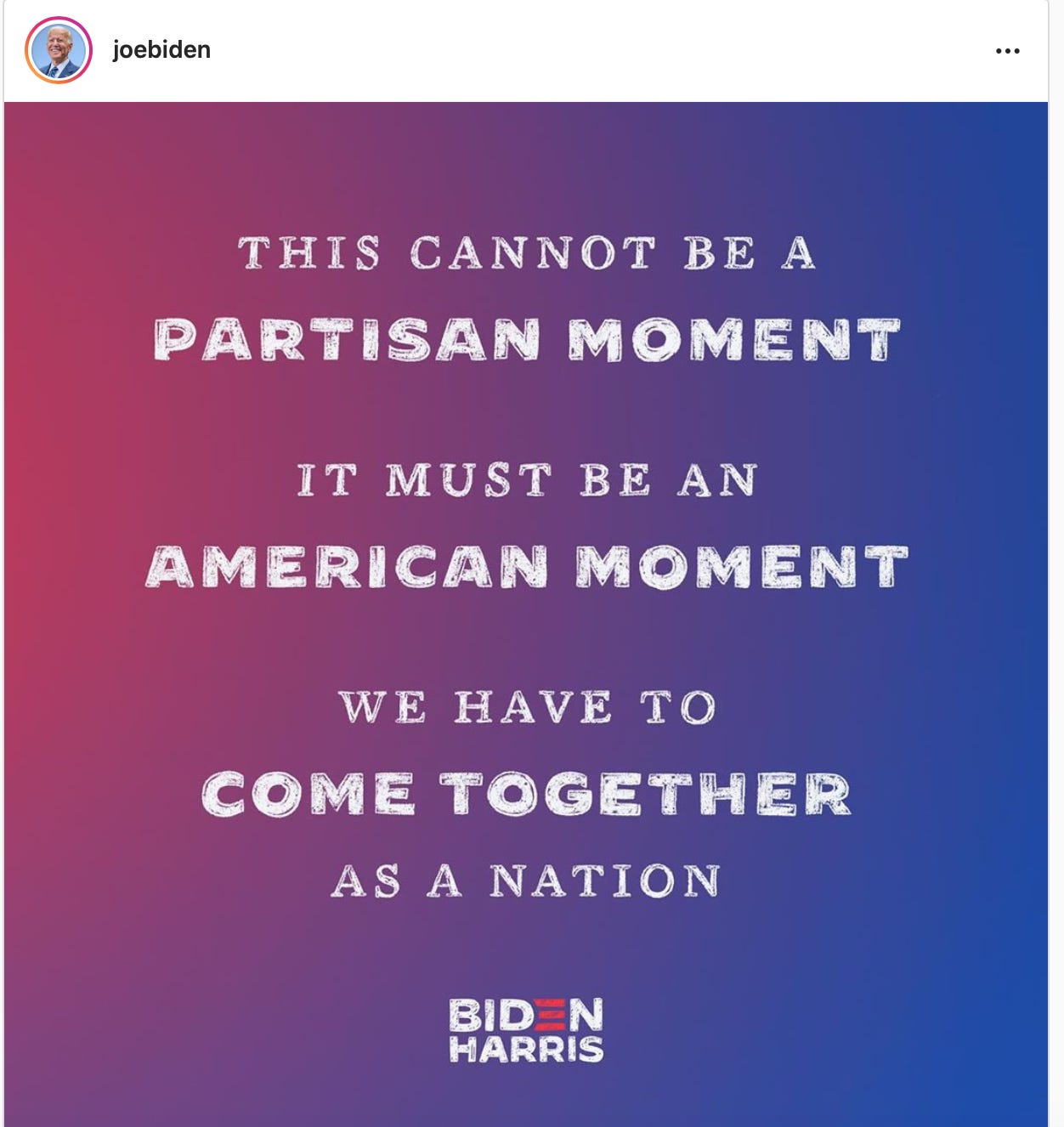 Biden is calling for unity. We should all not just listen to him but emulate his example. Non-stop hatred turns out not to be a good look for the side that sells itself as good.
Be safe. Be kind. Be humane.