Discover more from Free Thinking Through the Fourth Turning with Sasha Stone
A rumination on the collapse of culture on the left. Is it really that bad? Yes, it is really that bad.
Over 13,000 subscribers
Many of my friends have been afraid of me recently. I am speaking out of turn. I am speaking against the doctrine. I am … potentially defending Republicans? Why am I not breathing hot fire against Trump right now? Right, because that is just what the country and social media needs. Um.
In Primary Colors Kathy Bates decides she "believes" in the Bill Clinton figure. She is willing to help get him elected by any means necessary - except one. She did not want to play dirty pool. She did not want to be as bad as the other side. She believed in the future of good, in the future Clinton was promising. Until they got info on their opponent (Larry Hagman) who had a gay affair. They knew they could use this to win and she begged them not to. But they chose to go ahead with it. She ends up blowing her brains out. No, I won't be killing myself any time soon - with a daughter and dogs that isn't something I can even consider. But I do get where she is coming from. Boy, do I ever.
I can't find the exact scene on YouTube but this video sort of lays out what her trajectory is:
Had I never ventured over to the right to read what they had to say about anything, I probably would never be where I am now. I was a devoted Hillary supporter all through 2016. I believed in her, I believed in the Democrats. I belonged to the "religion" of Obama. I read Rick Wilson's book about beating Trump - I thought it was brilliant and insightful but it was critical of the Democrats. From there, I listened to other conservatives like Charlie Sykes, Max Boot, Jennifer Rubin, etc.
But once the New York Times had their meltdown and the media went through the "Great Awokening" the only criticism I could find was on the right, not the left. That brought me to the more extreme right - because those former Republicans and Never Trump people would not dare criticize the left. All they cared about was beating Trump. So they towed the line. No, I ended up in places most of you would never ever dare go. Watching and listening and reading to people who were critical of the "woke left." And I found some relief in that.
But the end result of all of this is disillusionment. That is the best word I can find. I have discovered my own side to be cruel and ugly in their criticisms of anyone on the right. The hatred of Trump turned us into an army of bullies. I simply could not take it anymore.
By now, I no longer care about the election. That is how bad it is. Sure, I will still vote for Biden, the only candidate I KNEW a year out who could beat Trump. And the only one who will do anything whatsoever about climate change. I was way ahead of the game on that. I had to convince people I knew that Biden was The One. But Biden and Harris and all of the Democrats are not seeing the problems on our side because the problems on the other side, to them, are life or death.
Once this election is over I likely will never join tribal politics again. It hardly matters since I live in a blue state. But I do not want to belong to a group of people who are so easily given over to cruelty. This comes about because of three main drivers. Trump himself, who hates that people hate him and so he continually drives up that outrage. The press - who make money off of Trump hatred. And social media that gives everyone an excuse to hide behind anonymity and/or get dopamine hits every time they say something extreme.
Here are some screen shots of how ugly it got on Twitter after Trump announced his Supreme Court pick.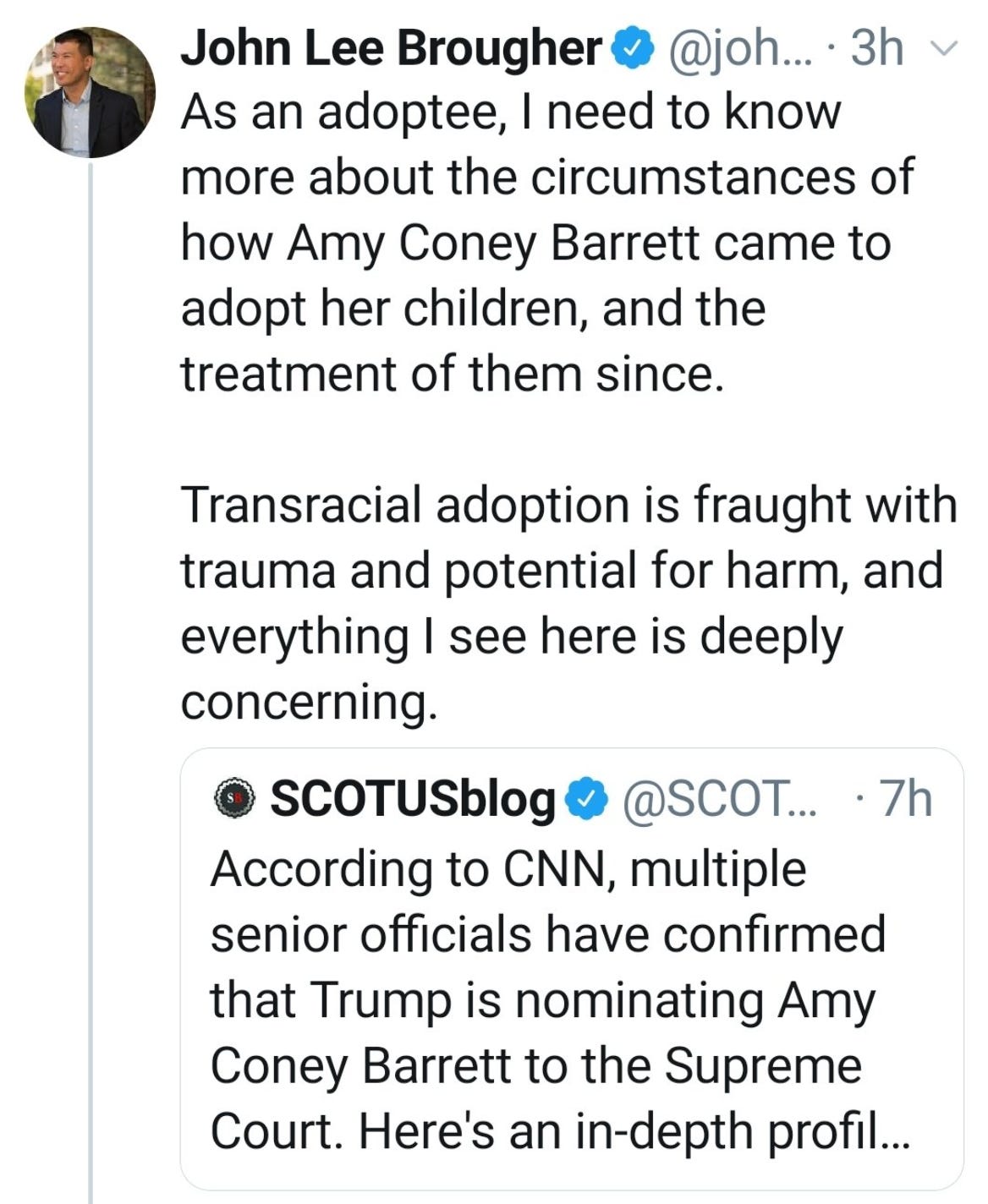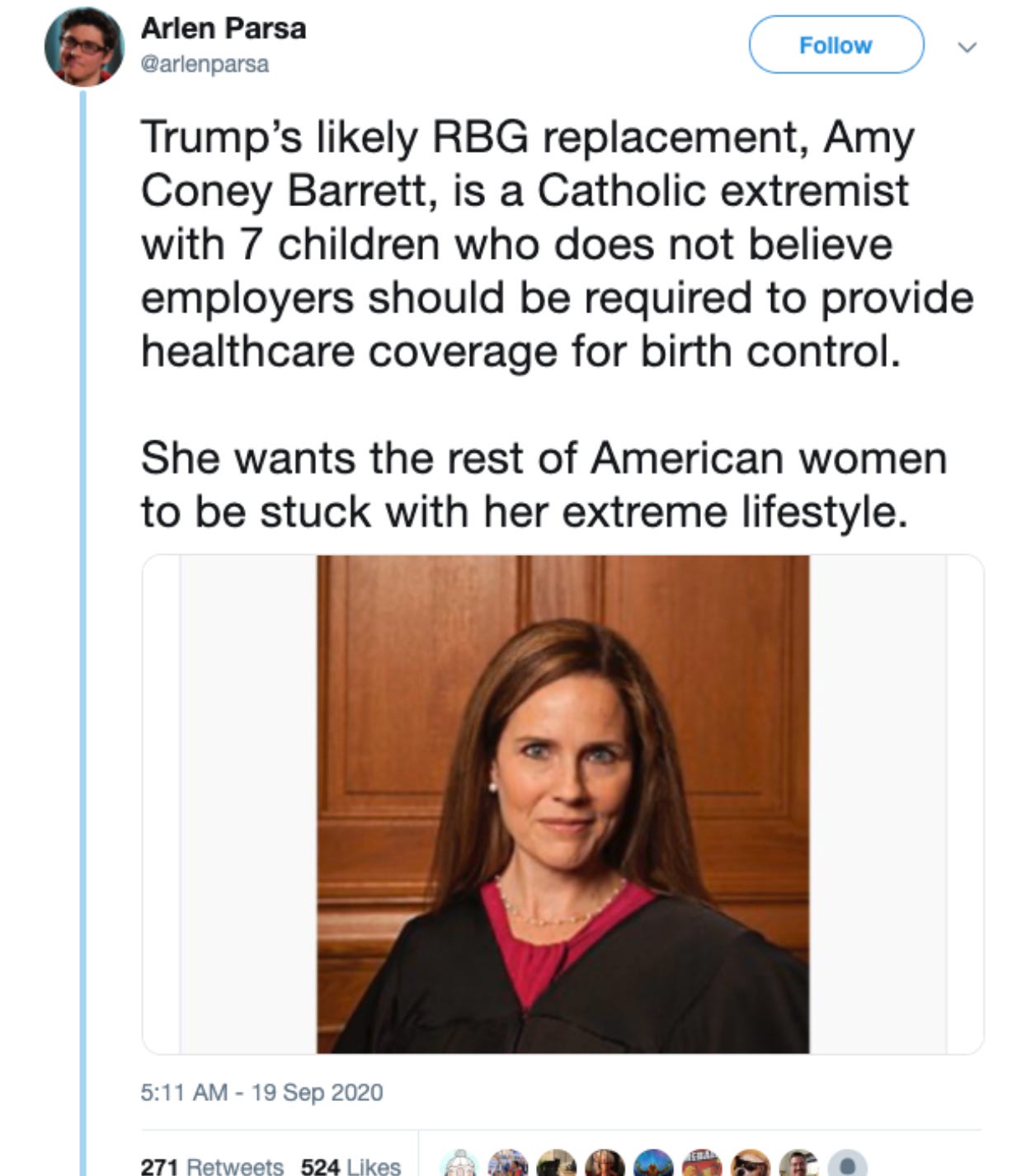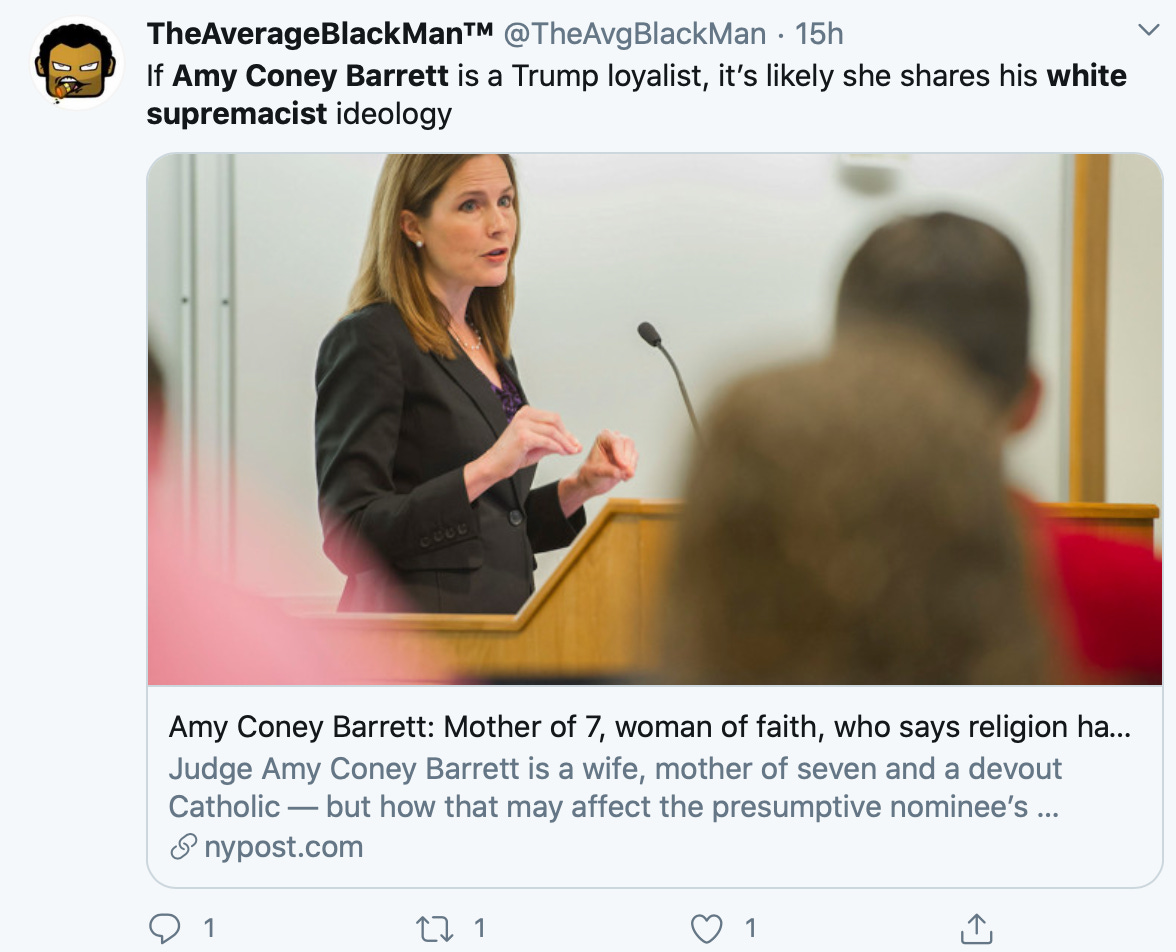 I've watched it only intensify in the years Trump has been in office. It has always bothered me that we mock how women look, their weight, Trump's weight, his hands, his hair, his children - suggesting he has sex with his own daughter. The non-stop personal attacks have never been okay with me but I can promise you, they have been more than okay with everyone else. Trump's family and the entire GOP deserves no mercy, you see. Anything goes. If Trump does it that means we are allowed to give it right back. But what does that make us? You will never hear anyone in the press, not Maddow, not anyone on MSNBC or CNN talk about this because no one ever does.
The meaner you are the higher you fly on social media. That has put me in the position of criticizing the left and not the right. So here I am, my Primary Colors moment has arrived. I am sure this is causing problems in my friendships, maybe even my work that I am suddenly no longer a religiously leftward person. My politics have not changed. But my opinion of the left has changed.
And now, I'm taking to the road and heading out of Lincoln, Nebraska and towards Cheyenne, Wyoming. All the while I know I will see nothing but Trump signs. Trump flags. Trump bumper stickers. I might not have known where they were coming from before but in getting a full spectrum view of the entire political process I know now. I understand the conservatives, the independents and the Democrats better than I ever did. But at the end of the day, hurling abuse serves no purpose. It simply reveals us to be awful people who do nothing in the face of constant dehumanization. And that is never a good thing for our species.
Whether it's dealing with a global pandemic, conquering the problems of poverty, racism, health care - CLIMATE CHANGE - we need to work together as a country, as a nation. We can't get there unless we stop seeing each other as the enemy.
That's it. That's my speech. See you next time.