Discover more from Free Thinking Through the Fourth Turning with Sasha Stone
A rumination on the collapse of culture on the left. Is it really that bad? Yes, it is really that bad.
Over 13,000 subscribers
"He could not help feeling a twinge of panic. It was absurd, since the writing of those particular words was not more dangerous than the initial act of opening the diary, but for a moment he was tempted to tear out the spoiled pages and abandon the enterprise altogether.

He did not do so, however, because he knew that it was useless. Whether he wrote DOWN WITH BIG BROTHER, or whether he refrained from writing it, made no difference. Whether he went on with the diary, or whether he did not go on with it, made no difference. The Thought Police would get him just the same. He had committed — would still have committed, even if he had never set pen to paper — the essential crime that contained all others in itself. Thoughtcrime, they called it. Thoughtcrime was not a thing that could be concealed forever. You might dodge successfully for a while, even for years, but sooner or later they were bound to get you."  - George Orwell, 1984
They'll find you on Twitter. They'll find you on Facebook. They call you out if you're a journalist who doesn't comport with the ideology. This is the "tyranny of the majority," per John Mill, playing out before your eyes. But here is the good news - it only exists because people are afraid. In fact, there is nothing real to fear - there is only momentary hysteria that, sooner or later, will collapse into itself, like a black hole in an indifferent universe.
I've been committing daily thoughtcrimes on Twitter. For this, I have had people dramatically unfollow me, feeling betrayed by my thoughtcrime. I've had a very high profile Democratic Party member privately DM me telling me not to speak out on Twitter (aka, committing a thoughtcrime) because the election is coming up and I could put Biden's win in jeopardy. Do not criticize the left. Do not criticize Democrats. Do not call out the blatant hypocrisy any American can see with the name eye. Don't do it because it is verboten.
But you have to ask yourself, why is it "verboten" and why would we, a supposedly free society, find ourselves here? Never underestimate the mob at the hands of collective fear.
The Nazis had a list of things that were verboten. This is how Hitler built a youth army, by making a strict code of uniform belief of what you could read, what could you could not read, where you could go, where you could not go, whom you could associate with and whom you should shun. You were ordered to do these things and if you refused, well, that was that.
The Boy Scouts' motto was "Be Prepared." But nothing could prepare Max Ebel, a German teenager, for what happened after Hitler banned the Boy Scouts. As other boys cheered, the 17-year-old was surrounded by a gang of Nazi Youth—one of whom had a knife. Ebel's refusal to leave scouting behind had just turned into a fight for his life.

It was 1937, and the Boy Scouts were one of many youth organizations on the Nazis' verboten list. Now, every non-Jewish boy in Germany was required to be part of the Hitler Youth, the Nazis' youth arm, instead. Ebel, a pacifist who distrusted the Nazis, refused—and paid the price. 

The Boy Scout was harassed and then attacked by a group of Nazi Youth. In an attempt to force him to join, one of the members stabbed him in the hand. Ebel fought back, grabbed the knife, and cut the other boy's face. Later, realizing his life was in danger, he escaped Germany and eventually became a U.S. citizen.
It is difficult to make the argument that Trump's side is advocating for this kind of forced conformity. But it is easy to make it about the left. It is so common and widely accepted even speaking out against it puts you on the verboten list.
Well, not while I'm alive, thank you very much.
Of the five things I want to say, I maybe say one thing. I say it because I know I shouldn't. I say it because I know if I do not say it I am going along with something I do not believe out of fear. If the threat is that you will lose your job, lose your friends, lose your family, lose your status - why would anyone speak out? It is so much easier to comply. That, my friends, is how you get to fascism.
The Nazis and Hitler, of course, took it to the extreme. The American people pushed back against Trump's Muslim ban and separating families and traumatizing children at the border. Those were seen as signs of a potentially fascist regime. But never once has the American public feared Trump. Not once. They have laughed at him, on the left anyway, and many on the right from day one. An entire media establishment Trump can't control spend each and every day puncturing everything he says and does. It might have started out factual but now it has risen to levels of extremes, where journalists are now actively part of the "resistance" for fear of the left. Yeah, that is how bad it is. Journalism collapsed under the fear of what the left would do, not the right. Maggie Haberman has been bullied and called out for four years running. The level of dehumanization against her is mind-boggling. James Bennett lost his job at the New York Times, as did Bari Weiss. As did other editors around the country. People continue to lose their jobs, or get kicked out of classrooms for not complying with the ideology.
Journalists were told to stop being journalists or else they were "normalizing" Trump. They were ushering in fascism. They were allowing for a pathological lying racist to be accepted as a US president. That is how we got to the pretend narrative, or gaslighting the press has engaged in as we head towards the election. The protests were "mostly peaceful." COVID panic stopped when the protests started because we can't criticize the protests or else we're racists and pro-Trump. Once the protests stopped being news we were back to COVID panic - COVID panic nonstop as a way to win an election is a very dangerous game to play and yet here we are, freaking out the American public with a mostly false narrative. Yes, people are dying but most of them are over 80.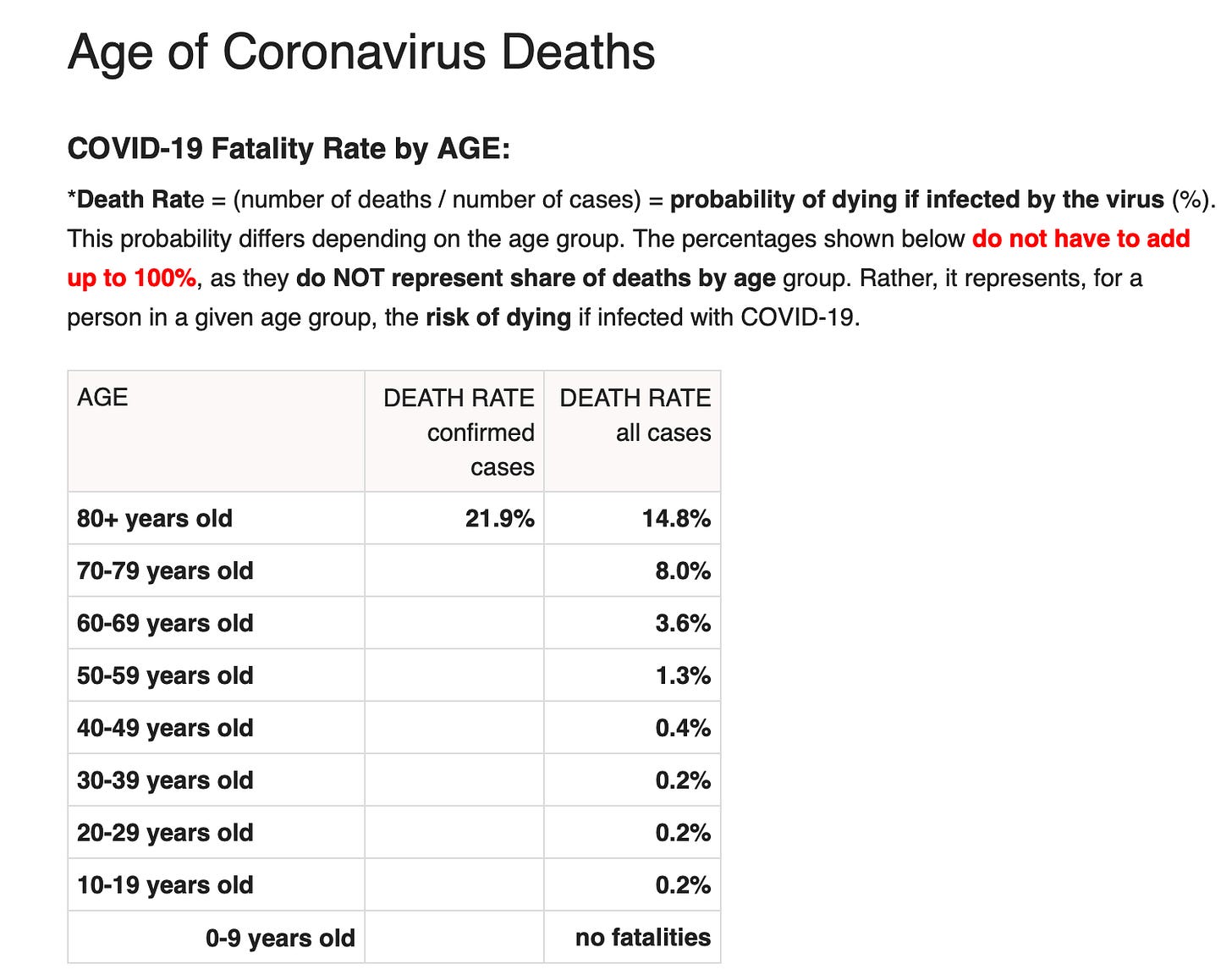 Both Trump and Biden are in the 8% category, bad but not as bad as being 80+. My chances of dying are just 1.3. My daughter's are just .2%. By all means, let's protect the elderly from this deadly disease but are these percentages really worth the level of panic CNN puts out? Is that even news anymore or a way of controlling people using fear?
There is a growing fear of dissent among college kids. They're not stupid. They know that there are things they can't say, questions they can't ask. They're coming of age into an environment of suppression, oppression and overt persecution. They think thoughtcrimes are normal. They know they are going to be hunted and monitored and watched for anything they might have said or done that could be defined as "offensive." One strike you are out. They don't know that in this country we have the right — and the moral duty — to push back against it.
And if 60% of people are afraid to say what they think online how can we even know what people think at all? Well, I'd like to know myself. I'd like to live in a country and in a culture of tolerance. Not one of intolerance. Someone recently sent me this piece in the Wall Street Journal called The Tyranny of the Tolerant:
The tyranny of tolerance—a fetching phrase but a contradiction, perhaps, even an oxymoron? How can the tolerant be tyrannous, when tolerance, by its very nature, is supposed to be benign and above all understanding and forgiving? Yet in the current day, who is more intolerant, more close-minded and unforgiving, more malicious than those who officially pride themselves on their tolerance for sexual difference, minority mores, protest in all its forms—namely, those who march under the banners of the woke, the politically correct, the progressive?
Hitler forced Germany, and wanted to force all of Europe and beyond, towards his warped ideology. He used military force that started with the Brown Shirts beating up dissenters. He strong-armed people into following his dictatorial rule but there has never been a moment during the Trump presidency where this has come even remotely close to the truth. Rather, from day one there has been a united, systematic effort to render him a lame duck. The same was done to Obama but on a government level. He had both branches of government, and many on the right, attacking him day in and day out. But he also had the support of the left, and we control most of the cultural influencers.
When people tell me that I have to stop fascism by stopping Trump I always ask them, what do you mean by that exactly? My reasons for voting against Trump has changed in the past four years. I used to believe he threatened fascist rule because of those who helped to put him in power (Sebastian Gorka, Steve Bannon, Nigel Farage) and it might have gone that way but the American people used the power of democracy to stop that in its tracks. Now my argument for voting against him has more to do with wanting the chaos of this country to end. But I don't even know that it will.
"It will be the end of Democracy," I'm told, if Trump wins again. But what do you call what's happening on the left right now to journalism and science and education? Look at where we are. We are headed for a once-in-a-generation opportunity for the progressive left to control all three branches of government, get rid of the filibuster and do whatever they want. Are they going to push back against the tyranny of the tolerant? I guess we'll have to wait and see.
Until it really gets bad we won't challenge it. And I worry it will get much worse before it gets any better.
This is why I am sacrificing myself for the greater good. Am I committing social suicide? Perhaps. But I'm taking note of those who are telling me either to shut up until after the election, or feel betrayed by what I think, or try to call me out or bully me online. So, in other words, I could lose everything or I could lose everything. Tough call.
The bottom line is this: you need a high floor. You must believe, at your core, that you are a good person. If you do that, you can survive almost anything.