Discover more from Free Thinking Through the Fourth Turning with Sasha Stone
A rumination on the collapse of culture on the left. Is it really that bad? Yes, it is really that bad.
Over 13,000 subscribers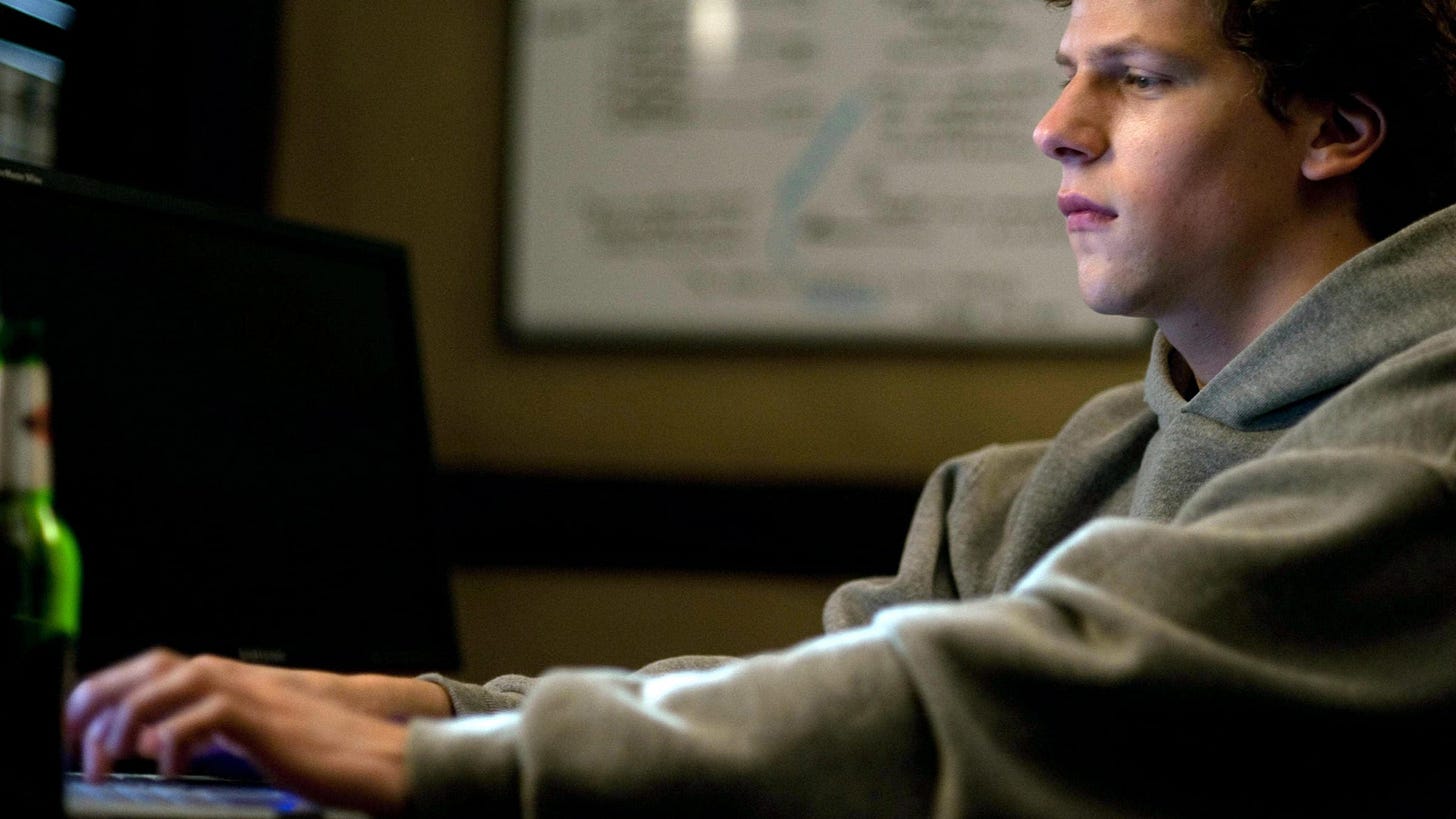 I should know about online life replacing real life. I should not only know about it, I should write a book on it. It's a lot of pretend life.
"I am a vegan … online."
"I am beautiful … online."
"I am a warrior for justice … online."
"I have enormous power … online."
"I have men falling all over themselves to date me …online."
"I have a happy life …online."
All too often we've come to this medium as a way to depict a preferable avatar. I noticed this back in 1994 when I first got online. I was with a group of people on Usenet called Cinema-l and the only thing they could knew about me was the words I tap tap tapped out on the screen. It was an early version of performative existence that so many are accustomed to now, that so many young people have been born into. When someone is "called" out online it has nothing to do with who they are - it is a way to manipulate their imagined avatar of themselves. What they lose is often that beautiful vision. Because once someone shatters it, whether it's true or not, that part of the fun game is over over.
I think of two prominent YouTube stars who have been called out for things they once did that were funny once but now are verboten. Dressing up as Nikki Minaj and making the mistake of trying to look like her by wearing a wig and darkening your skin - no, that's "brown face" and it is one of the ways you will be ejected from the online utopia of all of our perfected selves.
Were those YouTube stars racist? Nope. Didn't matter. They had to apologize and take the back door out of Utopia. "I'm so so so sorry for the people I have hurt." And who are those people exactly? People who had absolutely no idea this video existed until some enterprising warrior clickety clicked their way through Youtube to find any offensive thing to show the world that 11 years ago you did this one thing you thought was funny but now it PROVES YOU ARE A RACIST!
I don't know if on the right they are building an online utopia but I know that the only people who really seem willing to pierce the bubble happen to be, if not on the right, already ejected by the left. When you ain't got nothing, you got nothing to lose. Those are probably the voices I'm most drawn to. Once the utopia of preferred life (which comes at a cost, my friends, you must adhere at all times to the Woke Doctrine) has been yanked away and you've been kicked out - well, now you can say what you REALLY think.
In my adventures risking my membership to the Woke Utopia by, out of curiosity, listening to the podcasts of people like Joe Rogan or Ben Shapiro or Jordan Peterson or Sam Harris or Coleman Hughes or any of those people who have been EJECTED by the Church of the left online I have never heard any overt racism. I've certainly heard them talk about things that are verboten and would be called racism or sexism online. I've heard them say things I don't agree with. I calmly take a breath and continue on. The only two people who have ever made me think differently than I already do would be Sam Harris or Coleman Hughes and I believe they are both on the left - but both have been deemed not woke enough for the Utopia.
The problem, as I see it, is twofold. The first, the online Utopia is not real. Sure, you can have enough of a fit online to produce an embarrassing shitstorm for someone and get them fired, and you can strong arm people into believing your accusations of racism are well founded enough to require a "internal review" and you can apply "White Fragility" to every single tweet a professor ever made and somehow see racism in it and get them fired - but is that real power? Or is that imaginary power?
Everything done online that impacts the real world becomes an example of that utopia to regular folks out there just trying to get through the day. How much of it reads as noise? How much of it seems bizarre and off kilter? Remember, utopias never work. They always fail. Charles Manson tried to build one at Spahn's ranch where there were no more traditional roles but free love, man. Only at the same time, because all Utopias need a perceived evil, he was making a strong enough case that a revolution was coming and that all rich people deserved to die anyway because death ain't no big thing, man. Those poor girls sent off to commit murder had to be deprogrammed to stop believing in Manson's version of utopia.
Salem Village was to be the "shining city on the hill" and that too broke apart by its own making and has forever lived with the shame of what went on there. Mass hysteria brought on by traumatic events of bloody confrontations with the Native American tribes trying desperately to save their land and their way of life, not to mention the Devil himself. The Puritans of Salem had only God and the Devil to worth through their trauma amid a crippling cold winter. How those adolescent girls must have felt power for the first time to rip through convention of puritanical life by accusing others of being witches. For a long time "believe children" was how they operated. Believe all children because God would never allow children to lie.
Eventually, once they shook themselves out of the delusion of madness, the people of Salem tried to erase what happened. But they could not. The higher the status of people accused the more crippling the fear and hysteria became. That utopian vision was doomed to fail, as they are. Humans are complicated. Our best selves and our worst selves do battle daily. Often, online, our worst selves win because the algorithms on Twitter and Facebook push us in that direction. Stay engaged, stay outraged, keep the wave of pretend activism churning onward.
The story of Naya Rivera is one of those moments that can cut through the hysteria. She was out boating with her young son. No one knows how they ended up in the water. Maybe they went swimming. Whatever happened at the end of that, the son ended up in the boat while Rivera drowned. They think she died saving her son. Around the same time, Lisa Marie Presley's own 27 year-old son shot himself in the head. They were close they had mother/son tattoos. It was said people could not take their eyes off of him because he was the spitting image of The King.
How do we find ourselves through this morass of daily shame, outrage, witch hunts and horror? As someone who has spent almost half my life online my advice? Spend a little time cultivating an imaginary avatar as possible. Your real life self is going to be much more interesting. If you wake up 20 years later and you realize that maybe it isn't true. Maybe you spent so much time on who you were online you forgot who you were off. Well, I'm not sure that takes you anywhere good.
For a mother whose last moments were relief that she saved her son, it's worth remembering real life is still "out there."