Discover more from Free Thinking Through the Fourth Turning with Sasha Stone
A rumination on the collapse of culture on the left. Is it really that bad? Yes, it is really that bad.
Over 13,000 subscribers
The Existential Threat Election
Where the truth is sacrificed to save the country, or so it seems
This is the most important election of our lifetimes. That's the idea anyway. Save "Democracy itself" by voting against the opposition. Both sides seem to mostly believe this. If they didn't, they would pretend they did for the sake of the war, which is getting more vicious by the day. Americans are mostly exhausted from it all. Some have long since shut down the extreme hyperbole that has taken the place of news and conversation since Trump was elected. Maybe even before that, maybe during Obama's reign. At least on the right.
The GOP's King Kong has escaped the chains that held him and is now threatening the quiet countryside and some of them are worried enough to mount a serious offense against him. The kind of hard core campaigning normally reserved for the likes of Ronald Reagan and the Bush family has switched to the left for not. Those who are committed to bringing down Trump fully accept that their party has led to this. One might argue that both sides have lost touch with the forces that helped put Trump in power - the forgotten class, the resentful majority whose needs have long since been abandoned in favor of big city politics otherwise known as "the elites." But only Trump has their ear. At least for now.
Steve Bannon still firmly believes Trump will win a second term, counting on those fearful "secret voters" who will rise up and bring him victory. The Democrats are counting on the normally evasive "youth vote" who seem to like being involved politically and mostly oppose Trump but voting? Not so much. Maybe this year will be different.
Two presidencies have flipped the country into a kind of unmanageable hysteria. At least, that's how it looks when viewed through the prism of the online world, and the one offered up by the newsmakers at CNN, MSNBC and Fox - and really, they should know better.
Though it's probably a long shot to get anyone to confront it or admit it, the election of the first black man did cause enough of a culture quake that it shook the country's foundation. On the left, and with the majority who voted for him he offered a "new" vision of this country and its possibilities not seen since JFK mania swept the land. It took all the way until Ronald Reagan in 1980 to finally put that fire all the way out.
Obama might have been a lightening rod for many on the right, he also ignited a cultural awakening on the left. That awakening has become an "awokening" and in trying to hold onto that ideology - a fundamentalist religion right now - the left is fighting for something as close to God as the left is ever going to get. Evangelicals vs. Woke Leftists - an epic battle to the finish.
The Great Awokening has become something truly bizarre to many ordinary Americans who are watching in silent horror as this of all years the "left" becomes, before their very eyes, the thing they're accused of being - the "radical left." Is it real? Is it manufactured? Who knows. No one will stand up to it. So here we are in our own existential crisis of racism or antiracism that is very much a byproduct of the Utopia Obama's presidency left in its wake. Is that racist? Are they racist? Have they always been racist? If you don't put "Black Lives Matter" on Burger King's marketing materials then what? Princeton - oh god - Princeton! George Washington? Charles Darwin? America?
There is constant pressure to "save America from Trump" while ignoring this other existential threat that no one will really talk about on the left, leaving Trump and his warriors to do it instead. The statues, the riots, the chanting at restaurant goers to demand they raise their fists in solidarity - all of the while the most watched cable news show Fox shows millions of people what a small portion of the left are doing. But that's enough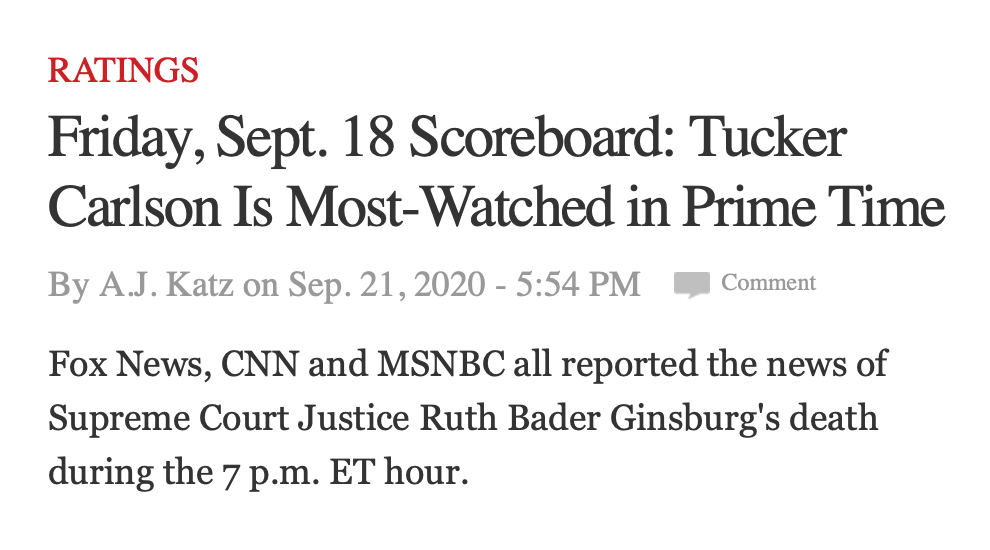 Trump says what many think but won't/can't say. He says it plainly, fearlessly and loudly. That makes him terrifying to the side who is very careful, always, about what we say for fear of offense. Trump shocked us all in how he mocked a disabled reporter or called women "fat pigs" or worse on Twitter, every day on Twitter. Is THAT the existential threat? Or is it "babies in cages" or secret hysterectomies of migrant women or is it his refusal to follow basic protocol in government? Trump seems to be akin to the Devil's threat to the Puritans of Salem - is goes that deep. What will happen if he wins a second term? What will shatter. What will remain standing.
The good news is that Biden might actually win. But the bad news is also that Biden might actually win. The threat of the insanity on the left finding its way towards government policy is real, especially since neither Biden nor Kamala Harris are pushing back on it even a little bit. So far the only person to speak about "cancel culture" is AOC who fully supports it. Most people won't go there out loud but many are thinking it. Your friends will tell you — scream at you — how can you worry about this when facing the existential threat that is Trump?!
Trump recognizes this and so he is forcing Biden's hand on the antiracism wave. He wants Biden to have to say one way or the other what he supports. He is pushing for the 1776 project to replace the 1619 project - and so far no word from Biden on any of it. Trump is bringing this fight right to Biden and Harris' front door. He senses it is the thing they don't want to talk about and so he will keep pushing that button. Biden is in a bind on that one. He can't alienate his black supporters but if he embraces it, Trump will run with it.
The last thing anyone seems to want is unity. This is a war against Obama's America and Trump's. For one thing, that will cut short the profit of division.
The news media profits off division, as Matt Taibbi wrote in his latest piece:
In the post-objectivity era, media companies learned there was a consistent, dependable way to make money. First, identify an audience. Then, relentlessly feed it streams of stories that validate that audience's belief systems. 

The easiest method is to publish stories that present people your audience does not like in a negative light. Fox did this with terrorists, criminals, feminists, liberals, the French, the "New Black Panthers," and a thousand other bugbears. The more horror stories they showed, the bigger their market share.
On Twitter and Facebook, unless you tweak your settings, you are seeing what gets the most engagement and usually is something that forces people to take a side in the extreme. Thus, how does anyone make news on a chaotic news day if they don't tweet something extreme? "Concentration camps" or "impeach Trump" or calling someone high status a "racist" or a "rapist." These extreme accusations pierce the noise, gain hundreds of likes and drive themselves to the top of your feed. But since they matter for only a few hours until a new one replaces them how can the human brain process any of it? How does "reality" even have chance?
Meanwhile, how to make sense of any of it if people keep screaming at you all day and if nearly every headline you see is a way of convincing you one way or the other. That is really the existential threat - that we no longer have a reliable source for news or the truth. We are a country in transition and neither side is offering the kind of steady hand America needs right now because no one wants to talk about what is true. If they do that they risk losing to the opposition and that is too high a price to pay.
If you head over to the right, most of that is just a reverse of what you see on the left. The same kind of thing - a distortion of the truth. But at least if you do that you can fill your brain with the opposing point of view and that gives you some idea of where the truth may lie: somewhere in the middle. But with the press mostly MIA you are on your own in the search for objectivity and truth.
It is perhaps in keeping with the first Reality TV star POTUS that America has begun to lose touch with reality. For decades we were conditioned to believe the false reality put forth by reality TV and its many stars. Now that we're watching the Season Finale of Presidential Apprentice we're wondering if the show is about to lose its villain and whether or not the ratings will tank. Trump seems to be treating it all like entertainment and he knows how to entertain, if he knows anything. To get rid of him we will have to learn to dial it way way down, to train our brains not to want that dopamine hit we get every time Trump tweets something that feeds the beast for a day.
The Existential Threat election therefore comes down to who we are and what we really want. The truth is, I'm sure any of us really knows. Biden is ahead in the polls and maybe he will win, preserving Obama's America at least for now. And for many that is enough. But don't kid yourselves. This battle is far from over.