Discover more from Free Thinking Through the Fourth Turning with Sasha Stone
A rumination on the collapse of culture on the left. Is it really that bad? Yes, it is really that bad.
Over 13,000 subscribers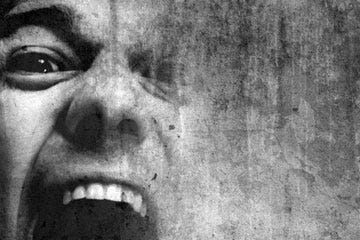 What an awful four years this has been. It was a rough adjustment for the majority to accept Trump's presidency. It left many wrecked, emotionally and psychologically. Then came COVID and that nearly took everything.
But by the end of it, after watching four years of sustained hatred aimed at one person and his family there doesn't seem to be much of who we used to be before November, 2016. Out with "when they go low, we go high" and in with "when they go low we kick 'em." Somehow the idea was that we lost the election because we were too nice. Now the gloves would come off. Now we'll show you what we're really made of.
You know what, though? I liked nice. I could fight for nice. I believe in kindness, humility, decency and compassion - even for people like Trump. To say so is to be named as an unclean thing. I was called a "righty" by an old friend of mine yesterday. That is all we have left, I suppose. Our ability to call out the real humans from the body snatchers. To name them so they too can be rejected and purged.
During Obama's reign, I knew I was standing on the side of the good guys. That is how I was able to fight so hard for Obama and for Hillary Clinton who also maintained a level of civility as Bernie Sanders supporters and Trump supporters dehumanized her, and her supporters. But I guess when you're on the side that's winning it's a lot easier to be nice. It's when you feel like you're on the losing side that things get really ugly.
It was ugly then and it's ugly now because dehumanization is always ugly. Who are the good guys? They're the ones with forgiving hearts, who have empathy and decency. Who see other people as people, even if they do not sit on the same side. Even if Joe and Kamala put on a good face the entire party, the media establishment that supports it is suddenly comfortable with crossing the line into dehumanization. It has no bottom. It's all fair game. We've named the victims — children in cages, people of color, women, Never Trump Republicans - and so we can use that drive up the jack. Make it hurt. Make it bleed.
When Obama was in power he drove the right crazy by how he did the opposite of what Trump does. Obama never took the bait. He was always calm and always smiled. Partly because he knew in America he could not, as a black man, show anger. And also because that's his personality. He was our hero because he could take it. And it is with Trump. He is their hero because he can take it. The rise of ever-strident political correctness had become the norm by the time Obama left office. It was a new America. Obama's America. We do not offend the marginalized, even if we're making jokes. We weren't quite to the level of overt policing where people lose their jobs as we're seeing now but we had all agreed that we were now living in a country where there were things you could not say, things you could not do - because we were all meant to adhere to this utopian vision of America.
Trump busted it all down. He said whatever he wanted. In fact, he said everything he wasn't supposed to say. He mocked people we would not dare mock in polite society and every time he did it he showed his fans that there was nothing they could tell him he could not do. This is very much in the spirit of the Trump base. They are exhausted from the rules imposed by the left, no matter whether they are "good" for society or not. The worst of them are the privileged celebrities lecturing ordinary Americans on how to live their lives. It takes spending time in this world to understand that perspective but how nauseating to watch Julia Roberts, one of the richest women in the world, tell you what you can do to save the environment. By the way, that is a subject that never should have become partisan.
The more angry we got, the more they liked it. They celebrated our "liberal tears" and honestly, we couldn't see it. I couldn't see it while Obama was in power because Obama was the good guy. And we were his army of good guys. But we're not that anymore. Oh sure, we pretend we're fighting on the right side but we're partisan, we're mean, we're petty - we only want news that makes us look good. This is true of celebrities who still instagram themselves as "good" while also exhibiting hatred and fury and ugliness at Trump. Justified, you see, because to be "good" you have to be MEAN.
Trump was taking it on the chin for the millions of forgotten Americans who aren't rich enough to live like Julia Roberts or Bill Maher or Jimmy Kimmel or any of those who say "vote like me." It's so easy to perfect a life when you have all of your needs more than met. Celebrities lecturing ordinary people on how they should spend their money, what they should be eating and whom they should vote for. But Trump threw gasoline over all of it and lit the match.
They love him for fighting a fight they can't because they are drowned out by the massive media machine that is now the propaganda arm of the left (there is simply no denying it by this point). They love him for dressing down those who see themselves as better-than (also no denying it at this point). They love him because he talks to them. He SEES them. They exist to him. They are not dog shit on the bottom of the $200 shoe. They love him so much they chant how much they love him at his rallies. Once it moved Trump so much that he said he almost cried hearing it. Because he's been the recipient of vicious unbridled hate for four years - all to destroy him. To blot him out and also said out loud, to blot them out. They have Trump and only Trump.
On the left, there is no bottom in the Trump hate. He has been so fully and completely dehumanized he could be shot on fifth avenue and Left Twitter would cheer. To kill an enemy you first have to dehumanize them. It worked for dictators who committed genocide while the people looked on in dull indifference. It works every day on Twitter as the impulse to "like" something cruel and unimaginable is too juicy to resist. Don't feel sorry for them, they deserve it. That's the subtext. And what does that do to you? What does that do to a side that is supposedly "good"?
I made the tragic mistake of humanizing the other side. Once I did that I saw them as human, Trump and his supporters. So I could no longer join in on the hatred and believe me I did join in. I was teased and provoked and I believed that Trump was so evil if we had to live one more day as a country with him in charge we could not survive it. And that is what people on the left believe. They are fighting a holy war and they believe Trump is the Devil himself and we good people on the left are the chosen few to take the country to the promise land.
You'd think, with a healthy lead in the polls, we could downshift back towards humanity, empathy, decency and kindness. You'd think, since we might be winning this election in a big way we'd open our minds and hearts to those forgotten by this cruel utopia. But no. We can't give up the hate. Not now. Not ever. This is WHO WE ARE NOW. Do what we tell you to do, think what we tell you to think, say what we tell you to say OR ELSE.
Or as an exchange I saw on Twitter:
She: "My friend said she was voting for Trump and I said you're dead to me. Was that too harsh?"
He: "Not harsh enough."
You're dead to me.
I do not recognize who we are anymore and that scares me. I don't recognize the witch hunts that accuse everyone of being a racist or a transphobe. I don't recognize the continual dehumanization on Twitter of anyone who doesn't agree with the hive mind. It's hard for me to watch people who wear badges that identify them as the good guys fling the kind of venom and hatred that used to be reserved for anon trolls. Now it's out in the open. And it's all supposed to be okay because Trump deserves it. To me, it's less about whether he deserves it and more about what it does to us. It can't be good.
But don't be so sure the left has the majority when it comes to thought policing. The dissenters have a voice and they have people who are following Trump's lead and who aren't afraid of the intolerant left. They are getting more popular even if this isn't reported or acknowledged in the mainstream.
Those who watch cable news they're watching Fox, and Tucker Carlson especially. Or they're listening to Ben Shapiro - currently number 5 on the iTunes podcast chart. Surely if they were following Twitter or watching CNN or MSNBC Trump's approvals would be in the low 30s.
I don't think we're going to get anywhere treating each other like the opposition army. To deal with what's coming in the future as population climbs, with more pandemics headed our way, climate change and whatever other major challenges we face we have to find a way to bridge the gap. We have to start seeing each other - yes, even Trump supporters and movie stars - as human beings. Not human beings we can demand conformity from but human beings as they are.
They're racists! You will scream. But are you sure? Or is that just what they tell you, the loudest among us. Get to know them and make that call yourself. Trust no one.
To me, right now, this is a no-win election. Either way it ends up it won't solve any of them problems I feel deep into my bones. It won't change who WE have revealed ourselves to be. I don't have enough Trump hate to overcome that. It won't change the growing totalitarianism on the left. Joe Biden and Kamala Harris have a non-campaign. They don't even need to bother. They know their wins are driven by pure Trump hatred. But if/when we win there will need to be something to take its place. None of knows what that is.
Regardless of who wins on November 3, probably Biden but you never know, the two Americas will still exist. Each of them will have a shot at trying to win the majority to make policy for the future. What I know for sure is that I will not support any politician who isn't trying to bring America together, who stands up against bullying no matter who is doing it, and who stands firmly against dehumanization, even for those you disagree with. Even for those you hate.