Discover more from Free Thinking Through the Fourth Turning with Sasha Stone
A rumination on the collapse of culture on the left. Is it really that bad? Yes, it is really that bad.
Over 13,000 subscribers
The Wrong Place to be on 9/11
When you lose your humanity you lose everything
"I don't know who needs to hear this…" A common Twitter refrain because usually you know exactly who needs to hear it because usually you are gathering steam for the coming storm of shame. Shame of other people, of course because that is what it's all become about somehow. Why? Because we are human. That is what we do. We have to fight hard for the other stuff - kindness, compassion, warmth, generosity. It doesn't come naturally, at least it would not appear that way if you spend too much time on social media.
I would say "online" but I've been online since 1994 and I haven't seen actual widespread socially acceptable dehumanization until now. Even though that is mostly how we were manipulated by trolls in 2016 to turn on each other, we still haven't figure it out that it isn't good for us. Losing an election by dehumanizing each other - by fomenting so much white hot hatred for our fellow citizen - was really only the tip of the iceberg where humans and dehumanization is concerned. The big one was the Holocaust, of course, where ordinary Germans went swimming in lakes during the summer while Jews were taken from their homes and sent off to be gassed at the camps. They were disguised as labor camps and somehow this was all justified. The same dynamic at play then is at play now and don't kid yourself, you're likely part of it, feeling justified in doing it, just like they did, but it is never right. Never.
How did the suicide bombers dive their planes through the twin towers on 9/11? Dehumanization. How did we enslave millions of Africans? How did we segregate against our fellow black Americans, prevent them from swimming in pools and drinking from water fountains or finding a seat on the bus? Dehumanization.
To feel justified in dehumanization, first you need a victim. You need to know someone somewhere has been made to suffer and you are the mighty warrior enacting revenge on their behalf, sometimes on your own. It doesn't much matter if they're at fault really. You imagine that they are and so they are.
We justify how we treat other people online by imagining they are the Nazis or the Germans and thus, any anger or abuse hurled their way is entirely justified. But it isn't because it never is. We have systems in place to protect ourselves from ourselves. We have laws and and courts and lawyers. We have locked doors and prison cells. We have religion to impose goodness.
We have become so used to it on Twitter we barely notice that it is happening all of the time. Because that kind of thing scratches an eternal, deeply embedded itch the engagement level is off the charts. It hits the top of your feed and you too are asked to either quietly ignore it, take a stand against it or pile on. Twitter encourages you to pile on. But really, there is no excuse for it. It is the act itself, the dehumanizing, that is wrong.
Why do I think we do it? Because the trick of dehumanization has served us well. It allows us to kill animals for food, for instance, and to live in a country that engages in war that kills so many other people. How could we ever fight in wars if we did not dehumanize?
We do it now because no one can stop it. We're all addicted to the algorithms and dehumanization is now somehow part of that addiction. Who will be next to be beaten down in the name of the resistance? We're fighting this bizarre war of words and hashtags and video snippets that only drive us further into it. If it's a Karen we feel justified, right? Would anyone care if she was shot? That Trump supporter shot in Portland - Twitter calls any Trump supporter a fascist and white supremacist. Why, because that is the only way they can dehumanize them. Hillary and all of her supporters were dehumanized in 2016. All we need is a reason good enough to abandon our safety latch and off we go.
On a day like today, 9/11, I don't like seeing partisan warfare on twitter. I don't like seeing anger and ugliness from my friends who feel justified in doing it because they believe they know the victim, they know the perpetrator and they are the avenger and doesn't make them good people? I don't know if dehumanizing other people ever makes anyone a good person. I can't think of a single instance where it does. Rather, the people I think of as good are those who do not and would never engage in dehumanization: Jane Goodall, Andrew Yang, Barack Obama.
People on Twitter think, okay, they can be good, I'll be cruel and abusive on their behalf because I'm part of "the resistance" and that makes all things justified. I do not believe this is true. I think it just feels good to unleash something you've been keeping trapped your entire life. It's with each of us - it's always there. We choose to unleash it, or not.
Today I choose not.
A good friend of mine died recently of a heroin overdose. He'd been my boyfriend for four years but we were good friends since 2016, the year that Hillary lost, my father died, my cat died and the world changed. He came to my dad's funeral and that was the last I ever saw of him but we were in constant contact until hours before he died. His last message to me was hopeful and then he was gone. Permanently all the way gone.
Whatever it was about Facebook it was keeping me from grieving his death. Maybe it was a dopamine thing. Maybe the hits were preventing my brain from processing it. Once I stepped away from Facebook for a while my brain returned to its mostly calm state and finally I was able to grieve properly.
There is nothing between us that flies through electric wires and is manipulated by algorithms that can take the place of closeness, of friendship - real friendship. Of love. Hundreds of thousands of years of evolution did not condition us to spit out abusive messages to each other, to force us to take a side in an ongoing war. We're built to get along because when we don't we turn into monsters.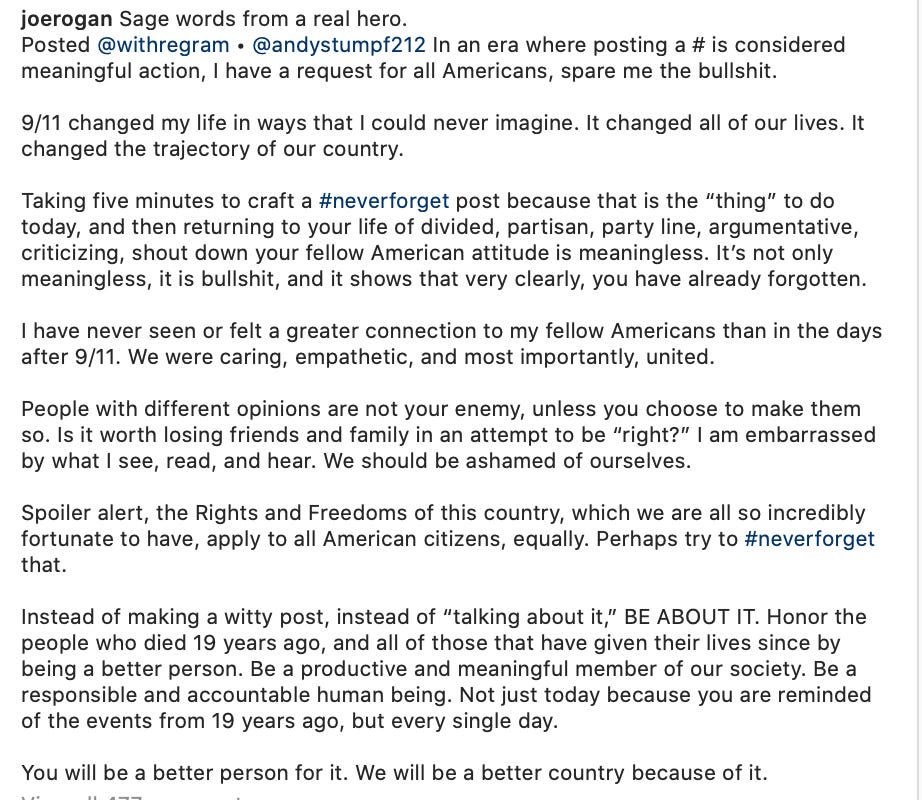 Peace be with you and hold onto the ones you love. Hold onto them tightly.