Discover more from Free Thinking Through the Fourth Turning with Sasha Stone
A rumination on the collapse of culture on the left. Is it really that bad? Yes, it is really that bad.
Over 13,000 subscribers
Trader Joe's Is a Fearless Flyer
Pushing Back Against the Cult of Hysteria is a Dirty Job but Someone Had to do it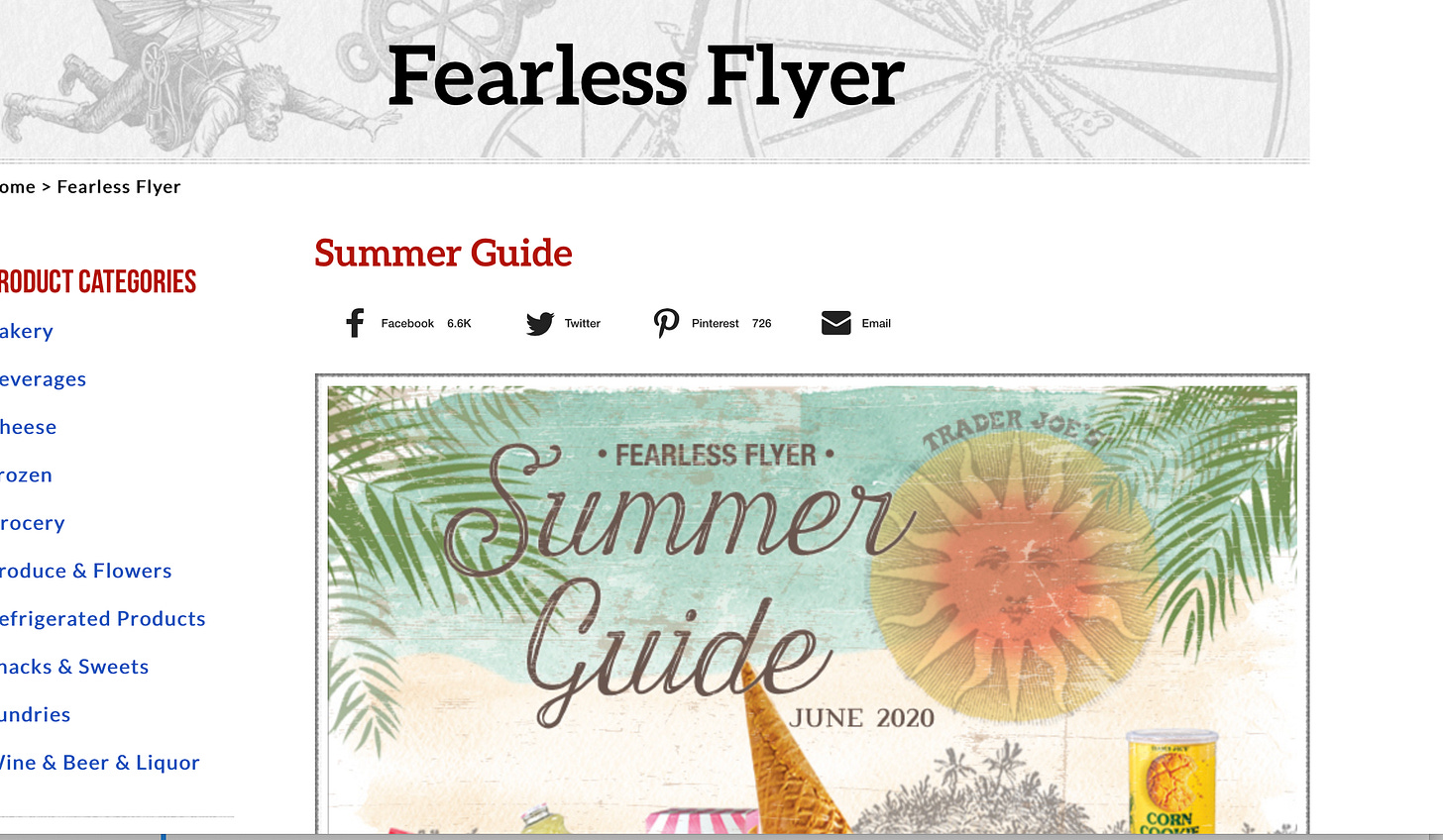 "The grocery chain labels some of its ethnic foods with modifications of "Joe" that belies a narrative of exoticism that perpetuates harmful stereotypes."
So said an online petition accusing Trader Joe's, one of the most popular markets in California, sparked by a 17-year-old white high schooler from San Francisco named Briones Bedell. Nevermind that it is the height of absurdity that anyone during a global pandemic would demand Trader Joe's scramble to hide their products in shame while 1 in 5 children go hungry. Nevermind that this poor girl has clearly been raised in a cult that has taught her to see racism in everything and to call it out whenever she sees it, even though she is being offended, and raised to be offended, on someone else's behalf and how that infantilizes those assumed to be offended.
Bedell's petition/accusation reads like pure satire. It would be funny if it weren't so horrifying:
We demand that Trader Joe's remove racist branding and packaging from its stores. The grocery chain labels some of its ethnic foods with modifications of "Joe" that belies a narrative of exoticism that perpetuates harmful stereotypes. For example, "Trader Ming's" is used to brand the chain's Chinese food, "Arabian Joe" brands Middle Eastern foods, "Trader José" brands Mexican foods, "Trader Giotto's" is for Italian food, and "Trader Joe San" brands their Japanese cuisine. 
And the bizarre rant continues, cherry picking references in order to somehow prove they did this awful racist thing deliberately:
The Trader Joe's branding is racist because it exoticizes other cultures - it presents "Joe" as the default "normal" and the other characters falling outside of it - they are "Arabian Joe," "Trader José," and "Trader Joe San." The book, White Shadows in the South Seas is racist because it perpetuates the myth of the "white god" and the "noble savage" stereotypes. It becomes even more racist in context because the founder of Trader Joe's said that he was inspired by this book in some way when creating his company, a book which shows traders' exotification of non-Western peoples turned into violent exploitation and destruction. The Disney Jungle Cruise is racist because it displays caricatures of non-Western peoples alongside exotic animals, as an attraction at a theme park to be gawked at. 

The common thread between all of these transgressions is the perpetuation of exoticism, the goal of which is not to appreciate other cultures, but to further other and distance them from the perceived "normal." The current branding, given this essential context, then becomes even more trivializing and demeaning than before. What at first seems, at worst, insensitive, further is called into question. 
As we speak, people continue to sign this petition - and likely all of these folks will decide to not shop at Trader Joe's. Meanwhile, TJ's will be forever known as one of the few actual adult thinking people to stand up to Lord of the Flies.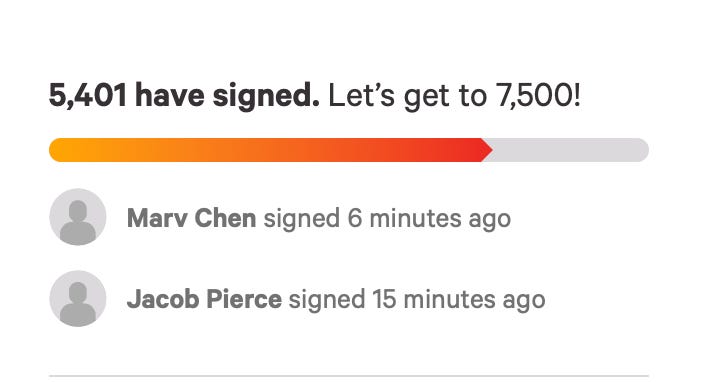 The only conclusion I can come to here is that Bedell was failed by her parents, her education or both. That she now has to somehow grow up in a world she deems THIS offensive is worrisome. However will she function?

As happens now in our ongoing state of mass hysteria, once accused immediately and forever guilty. Fear takes hold and suddenly all eyes are on Trader Joe's with suspicion. Are THEY racist? Our favorite market with all of the food we so love, the cauliflower gnocchi — oh my god, is that Trader Giotto's? And is THAT RACIST? Is just saying the name "Jose" racist? Is the word guacamole racist? Of course not. Where does this take us? It takes us to everything about American culture being "white" and therefore "bad." Any white person deciding to do anything, from a casting choice to a product label is suspect just because.
Here is how Andrew Sullivan describes it in a very good essay defining the origins of the madness of right now:

Becoming "woke" to these power dynamics alters your perspective of reality. And so our unprecedentedly multicultural, and multiracial democracy is now described as a mere front for "white supremacy." This is the reality of our world, the critical theorists argue, even if we cannot see it. A gay person is not an individual who makes her own mind up about the world and can have any politics or religion she wants; she is "queer," part of an identity that interrogates and subverts heteronormativity. A man explaining something is actually "mansplaining" it—because his authority is entirely wrapped up in his toxic identity. Questioning whether a trans woman is entirely interchangeable with a woman—or bringing up biology to distinguish between men and women—is not a mode of inquiry. It is itself a form of "transphobia", of fear and loathing of an entire group of people and a desire to exterminate them. It's an assault.
Racist stereotypes exist in our past without a doubt. Mickey Rooney in Breakfast at Tiffany's is a good example of that. It is a clear cut case of a racist stereotype that was crudely parodied by people who were not Chinese. Slurs and shameful depictions of black people as criminals and prostitutes, slaves, maids - you name it. It exists. But that doesn't mean labeling a product "Trader Ming's" is racist.

What might be a good example of racist labeling? Aunt Jemima fits the description by perpetuating the Mammie figure. That's a fair criticism. If they had, say, a tap dancing black man selling Trader Joe's fried chicken. If they had a product named after a Mexican immigrant that depicted someone illegally crossing the border. Those things exhibit context that shows an obvious slur. But calling a product Trader Jose's to sell food that would be labeled by us Californians "Mexican" is not racist. We enjoy "Mexican" cuisine all of the time and it isn't considered a slur - rather, it's a point of pride for all involved - part of the fabric of this state. I feel sure that all of this time of the millions of Trader Joe's shoppers if any of them had found the labels offensive they would have said something by now.

Thankfully, Trader Joe's pushed back. And that takes guts in an era when just saying "I'm not racist" is tantamount to white fragility which is tantamount to being a racist. It's like being called a witch and denying it. Only by confessing to being a witch can you walk away from an accusation. With no way to PROVE racism or witchcraft in well meaning members of the community the mob relies on their own fear and instinct. If they can imagine it, it must be true.

No one is required to bow to the will of such a freaked out strident cult. Anyone can stand up to Lord of the Flies and simply say - thank you for your feedback but I still have a shred of human dignity and if you don't mind, I won't allow you to call me a racist.
Trader Joe's statement, as follows:
A few weeks ago, an online petition was launched calling on us to "remove racist packaging from [our] products." Following were inaccurate reports that the petition prompted us to take action. We want to be clear: we disagree that any of these labels are racist. We do not make decisions based on petitions. 

We make decisions based on what customers purchase, as well as the feedback we receive from our customers and Crew Members. If we feel there is need for change, we do not hesitate to take action. 

Decades ago, our Buying Team started using product names, like Trader Giotto's, Trader José's, Trader Ming's, etc. We thought then—and still do—that this naming of products could be fun and show appreciation for other cultures. For example, we named our Mexican beer "Trader José Premium" and a couple guacamole products are called "Avocado's Number" in a kitschy reference to a mathematical theory.  These products have been really popular with our customers, including some budding mathematicians.  

We constantly reevaluate what we are doing to ensure it makes sense for our business and aligns with customers' expectations. A couple years ago we asked our Buying Team to review all our products to see if we needed to update any older packages, and also see if the associated brands developed years ago needed to be refreshed. We found that some of the older names or products just weren't connecting or selling very well; so, they were discontinued. It's kind of what we do.

Recently we have heard from many customers reaffirming that these name variations are largely viewed in exactly the way they were intended­—as an attempt to have fun with our product marketing. We continue our ongoing evaluation, and those products that resonate with our customers and sell well will remain on our shelves.
Hysteria is quite common in human history and in every case it stops only when people begin to question it and stand up to it. By the time the residents of Salem came to their senses, many well known and respected members of the community had been accused and hanged, even those who denied witchcraft. Those who are too afraid to speak out merely help perpetuate the madness.
Unless the pressure mounts and they are forced to reverse course, when the hysteria is pierced at long last, TJ's will be remembered as heroes who stood up to the mob when the mob was wrong.
The bottom line is this: just because someone accuses you of racism or a film or a book or a food product of being racist doesn't mean it is, in fact, racist - particularly if a white girl is the one making the accusation. Why not let individual groups speak for themselves? If there is no intent but it is harmful, it deserves the benefit of the doubt. It's possible that one person will be offended by something, but that in itself does not render something offensive.
What we need now is for calmer heads to prevail. We need adults in the room. Thank you TJ's for being the adult in the room.