Discover more from Free Thinking Through the Fourth Turning with Sasha Stone
A rumination on the collapse of culture on the left. Is it really that bad? Yes, it is really that bad.
Over 13,000 subscribers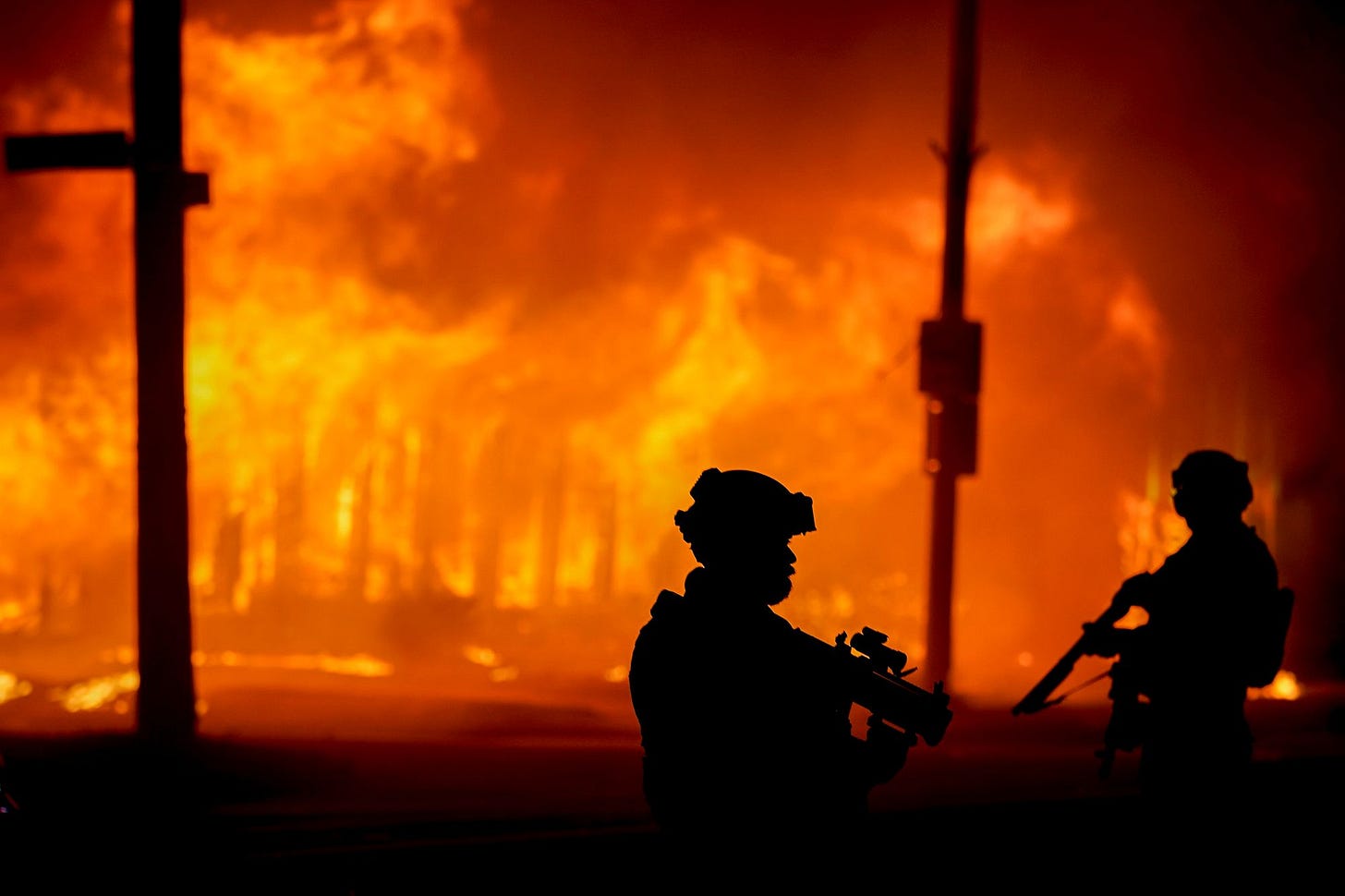 It's 5:30 AM. The town, and the entire region of Southern California has been hit with what feels like a record high heatwave. This has been going on reliably for the past few years - this heat. There is no reason to doubt the climate scientists. At least they, for now anyway, have no reason to tell people what they want/need to hear and thus, they do still have an obligation to tell people what they've observed from the science. But by now, climate change is on the back burner because the only thing that matters on the left for November 2020 is racism. Or rather, anti-racism. Or rather, Critical Theory, race or otherwise, which has finally swallowed up liberalism. Committing to this doctrine is like committing to Christianity - it's all or nothing, do or die and the Devil takes the hindmost.
Mobs of bored mostly white (though not all) college students who have been wound up and set free on the streets of — wait for it — Portland to scream about racism in a town that is 95% white and has a mayor so liberal and, it must be said, weak that he'd rather move out of his own home than tell them to stop throwing fireworks at it, playing loud screechy music and demanding he resign. But none of that was enough. They had to build shields and some of them had to acquire weapons to fight a police force that would not be there if they weren't trying to set federal buildings and police stations on fire. Some of them roam the quiet side streets demanding freaked out residents inside "wake up, wake up, wake up mother fuckers wake up."
The silence by the press is deafening and has been since the "mostly peaceful protests" started. No one could or would report on the security officer trying to protect a store getting shot in Chicago, or the man armed with only a fire extinguisher trying to protect his friend Sue's store being knocked unconscious while the store exploded into flames anyway in Kenosha. Or the immigrant from India whose car lot was torched and insurance will barely cover it, driving his own costs too high anyway. It didn't matter because it barely happened. A 90 year-old black woman lost her home in Kenosha.
The surreal part of it is how no one seemed to even notice or care because none of the major outlets even bothered chasing the story. Why, because they know that isn't what their audience wants to see. The story has to be about racism, cops or Trump or anyone who dares to care about any of the riots that emerged in the wake of the protests. But it happened. And it's still happening. We're on the brink of civil war and it seems our press has taken a side against the truth in service of the ideology.
When CNN reported on it they could only manage any kind of outrage if Trump supporters showed up with guns. Ah, finally, bad guys we can actually CALL bad guys.
It has been nothing less than a complete shit show to discover that in a time of crisis you can count on the press to be absolutely partisan. They must follow what the hive mind on Twitter demands. Never criticize the "mostly peaceful protests" - never even remotely suggest that sending in the National Guard would be helpful. Because that would give credit to Trump and that is absolutely forbidden under any circumstances whatsoever. The press, along with everyone else on the left, has gone all in to defeat Trump. And in CNN's case, as Trump accurately points out, that will mean their ratings will take a dive. And honestly, they already have.
It has been pointed out to me that CNN and MSNBC dip from the same pool and that explains why they both trail Tucker Carlson on Fox News so dramatically. Really? That is what CNN is now? Just fully MSNBC? Wouldn't it be great if we had something like actual news back? Maybe local news still reports on the actual news. I don't know. I've long since given up on news. I can't even read the New York Times anymore, now that I know if anyone steps out of line they'll be fired. Their singular ideology has wrecked what was once a great outlet, and it isn't even that I need the "conservative point of view" because I'm not a conservative, but it insults to my intelligence (whatever is left of it), that they presume to know what I want to hear or that I need to be told what to think.
If you are outside the financial model of mainstream news which must depend on the mighty oracle of Twitter for approval then you have a fighting chance at any kind of honesty. Otherwise, your job is on the chopping block if you step out of line. That means you write here on Substack, or you publish content to Youtube (vulnerable to a boycott but no one can get you "fired" short of framing you or accusing you of child molestation or sexual harassment). Podcasts are also a way to bypass the system that is wrecking the New York Times, the Washington Post, NPR, CNN, MSNBC.
The protesters/rioters/demonstrators are faceless waves of rage no one will identify, or even try to identify because the words that describe them are themselves loaded: ANTIFA, BLM, White Supremacists. If you're on the left and carrying guns, throwing bags of dog shit at police officers you are on the "good" side, which means CNN will completely ignore you. If you support Trump and carry a gun you are a racist white national because there is no such thing as a non-racist Trump supporter, according to almost everyone you know. Is it too much to ask to have anyone in the press push back on this? Apparently it is. The clicks drive the headlines. The algorithms drive the clicks and the feedback loop churns onward with no end in sight. RIP the news.
A large population of Gen-Zers have come of age in a world shaped by Obama and thus, they could not know any other kind of world could possibly exist. That is what much of this is about, fear of all of that going away. It is about Obama's America vs. Trump's America. Or any America that isn't Obama's.
The problem is, American culture has always and will always shift. Sometimes the transition is violent, as it was between 1968 to 1980, out of Kennedy and towards Reagan. Sometimes you barely notice it, like the Gilded Age on through the Depression and eventually to the white utopian ideal of the 1950s.
We're in a violent transition now. Obama's America wasn't built to last or stagnate or stay the same, at least not in a country that is always reinventing itself. What I do know is that this is not a country that will fall into fundamentalism of any kind. Sooner or later the majority will push back against the increasingly strident and censorious "woke doctrine" that has strangled the life out of liberalism. At least I hope so. Right now, that only seems to exist outside of the mainstream or on the right.
Maybe Biden will win. Maybe that will mean the whole semi-ordered machine is put back together to resemble what it was in, say, 2010. That is what most people I know seem to think. But I'm not so sure. After four years of this, after the shock of someone rising to power who was immune to our attacks, accusations, impeachment, media machine I'm not sure there is must left to preserve. If we are all really just one word away from our careers, friendships, employment coming to an end, something is very wrong. Maybe this system, like the one headed for collapse in 1972, will have to be completely destroyed to be rebuilt.
It is going to be hot today. The theaters still aren't open. Some people are pretending it's still summer enough to swim in a lake or in the ocean. The feedback loop is certain Biden will win in November and things will "go back to normal." I myself can't help but think if you hand over law and order, freedom of speech and patriotism to Trump you don't have much left as a pitch to the American people except "Trump is bad." Will that be enough?
If only Hunter S. Thompson were here. Except that he'd be out of a job.
To listen:
Fifth Column with Nancy Rommelman on Portland and Kenosha
Kenosha resident drives through the aftermath of the riots
Owner Of Burned Kenosha Mattress Store Reunites Man Who Tried To Save It