Discover more from Free Thinking Through the Fourth Turning with Sasha Stone
A rumination on the collapse of culture on the left. Is it really that bad? Yes, it is really that bad.
Over 13,000 subscribers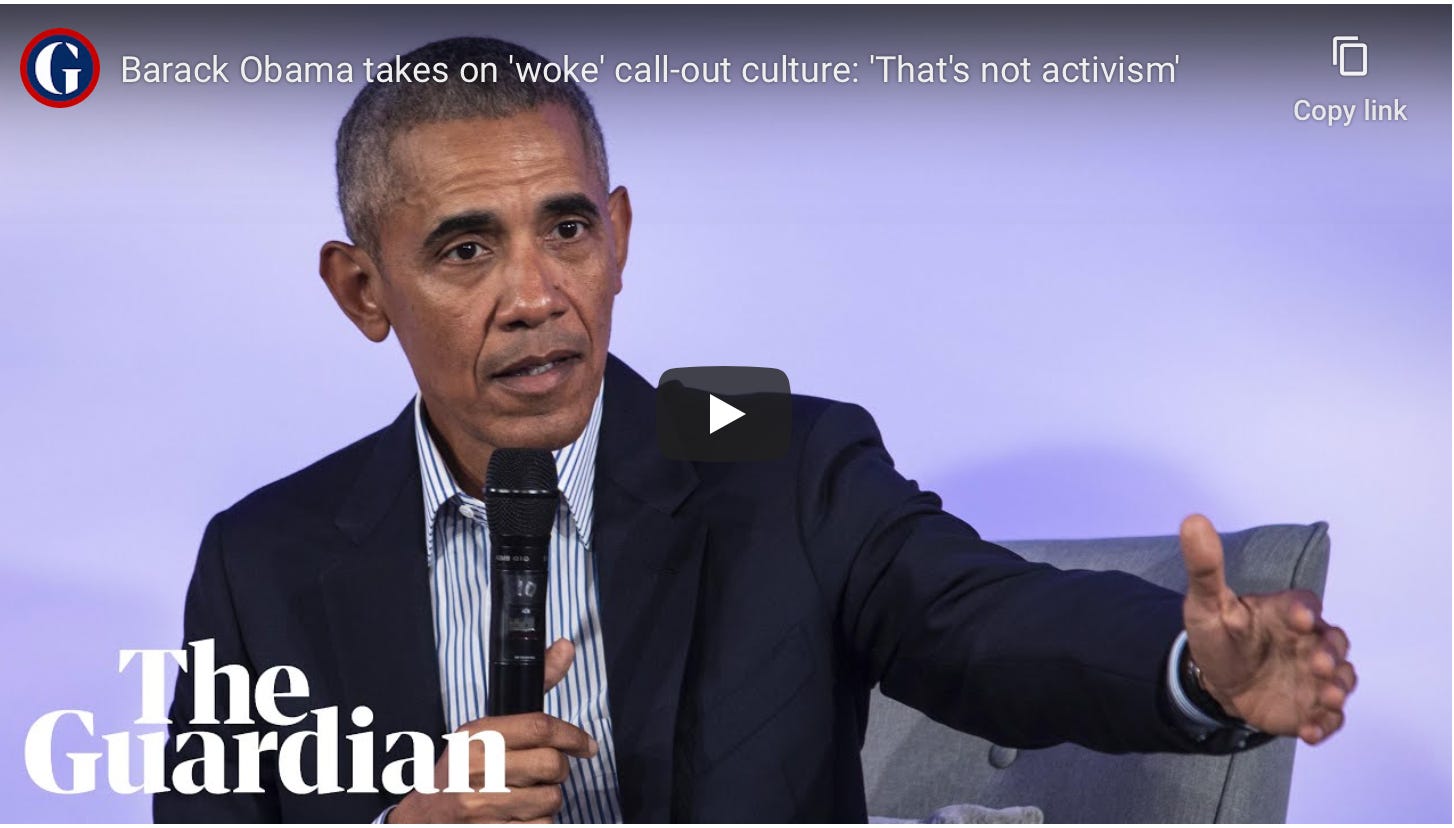 The conversation around "Cancel Culture" is confusing. It is used as a catch-all to describe many different things all happening at once. There are several different versions of it but only one of those versions is currently a threat not just to a free and open society, as in not oppressed by the 'tyranny of the majority' as John Stuart Mill would call it, but to the resistance against Donald Trump. If Democrats hand over law and order, freedom of speech, love of country, and American pride to Trump, we will lose in November.
1. Black Lives Matter/Black Twitter
The first version of Cancel Culture - with the rise of social media at the beginning of the Obama presidency, starting in 2008, marginalized voices began to mobilize. Of these, one of the biggest was "black twitter" which didn't really start out as part of the Black Lives Matter movement, but has, in the last year and especially under Trump become a much bigger force than ever before. Never before in history have black voices had such a prominent place to move the needle on all things movie related, book related, music related and politics related. That is an invaluable and positive shift in the power dynamic in America.
While some of this was subverted and exploited during 2016 by trolls pretending to be BLM activists, the movement is alive and thriving these three years later. Black Twitter is a force and it's here to stay.
With a single hashtag and mobilized opinion, most corporations, museums, news outlets, movie studios will often buckle under the mobilized force of protest online. When you hear defenders of "cancel culture" this is what they're talking about. They're talking about power for the first time in American history to enact change just by the people coming together and forcing that change.
I know a guy who is mid-50s, white guy, Black Lives Matter protester who tells me that to make change you have to "break some eggs" and what that means is it's okay if a few people's lives are ruined because the broader impact is more important. To him, criticisms of "cancel culture" are tantamount to white fragility, or people nervous that they are being "held accountable" for the first time ever.
This is why there is so much pushback against the Harper's letter, for instance. While not all of the signers were white, the resistance to it meant that people were fighting for the right of mobilized black voices online to continue to enact justice the old fashioned way. That is, without any kind of due process or defense. Once accused, forever guilty. It's as old as humans themselves - when a crowd decides the guilt or innocence of a person rather than institutions of justice. The counter argument would be, those institutions of justice failed the black community throughout their entire history and that would not be wrong.
No white person on the left can tolerate being called a racist. It's the only thing worse than being called a rapist. Both of these things have become tantamount to being called a witch back in the 1600s in Salem. White people who voted for Obama want nothing more than to continue Obama's utopian vision for America which we felt we had in our grasp as we headed into 2016. That vision: no one is offended, everyone is treated with equal love and respect, LGBTQ rights are human rights, and cultural revolution matters a lot more than anything else. That was the Obama path.
The only way to have won in 2016 was to sell that path back to the American people. But the left fractured as the Bernie Sanders left said no, cultural revolution matters less than economic revolution. We don't care about "identity politics." What we want is medicare for all, etc.
That created such a rift in the party it still hasn't recovered from it. Coming out of 1968, Democrats were similarly fractured - the old guard of moderates vs. the news generation of anti-war cultural revolutionaries. By 1972, with the help of Nixon's ratfucking, the Democrats lost their moderate options and went with the anti-war and very "green" George McGovern. Needless to say, Nixon won in a landslide. America was fast on track to a pendulum swing right, but Democrats would have one more chance to reclaim power in 1976 with Jimmy Carter but by the end of his presidency both the Democrats and the Republicans were dumping on him. Carter's one term presidency is the Democrats' best hope of defeating Trump after one term. If it gets THAT bad, Trump will be defeated.
The problem is that back then, power was shifting right, not left. It was Nixon, Nixon — Carter — Reagan — Reagan — Bush. Now we're doing it the opposite way, Obama, Obama, Trump. Does this mean we are moving leftward?
So why, then, did power shift rightward back from 1968-1992? The cultural revolution did it. Had it been political it probably would not have shifted so permanently in the right's pocket. The cultural movements of the 1960s and 1970s sacred the "silent majority" and they went with patriotism, law and order and traditional American values. Even Obama is mostly not in favor of what so-called "cancel culture" has become - that is not the version of the left he wanted his legacy to be. Obama was patriotic, believed in law and order and sold American exceptionalism, not hatred of America, not division:
"Democracy demands that we're able to get inside the reality of people who are different than us, so we can understand their point of view. Maybe we can change their minds, maybe they'll change ours. You can't do this if you just out of hand disregard what your opponent has to say from the start. And you can't do it if you insist that those who aren't like you because they are white or they are male, somehow there is no way they can understand what I'm feeling, that somehow they lack standing to speak on certain matters."
Obama's influence appears to be a lot more like JFK's - a young visionary to lead a new America. But then, like now, the cultural revolutionaries did not represent the silent majority who kept their heads down waiting for it all to go back to normal. It was just too much too soon, a lot like it is now as the rules keep changing, the policing of speech getting worse.
It's hard to imagine an America in the hands of this generation's idea of justice and identity politics. Where it would be no problem without the punitive aspect of it. But people should not be losing their jobs for not being 100% on board with the doctrine. There should not be a push for unified thinking or the totalitarian idea of "conform or else." It will not and cannot sustain itself. Thus, if we don't figure out how to stop it on our own by challenging it, standing up to it, power will shift rightward, if not in 2020, then in 2024 and for the foreseeable future. That is what history tells us.
If Black Lives Matter or Black Twitter were what cancel culture actually was, most people would not be complaining about it. That is most certainly not all of it. It is one version of it - that sprang from black twitter phrase that someone is "canceled." But it is not fair to lay it on them. Journalists use it as easy reference but it is separate from the part of what's happening right now that must be confronted.
To many on the right, it is too easy to label all activism "cancel culture." To the left it is too easy to ignore the dangers of totalitarianism for fear of dampening black activism.
2. Social Justice Warriors Tumblr
Prior to it being called "cancel culture" it was "social justice warriors" or SJWs. The origin of it, my daughter (gen-z) can be traced back to a Tumblr in 2013 — Your Fave is Problematic. Most of the insanity of a lot of what drives "cancel culture" (as appropriated by mostly white gen-z and millennials, although by no means not all white, clearly). An example post: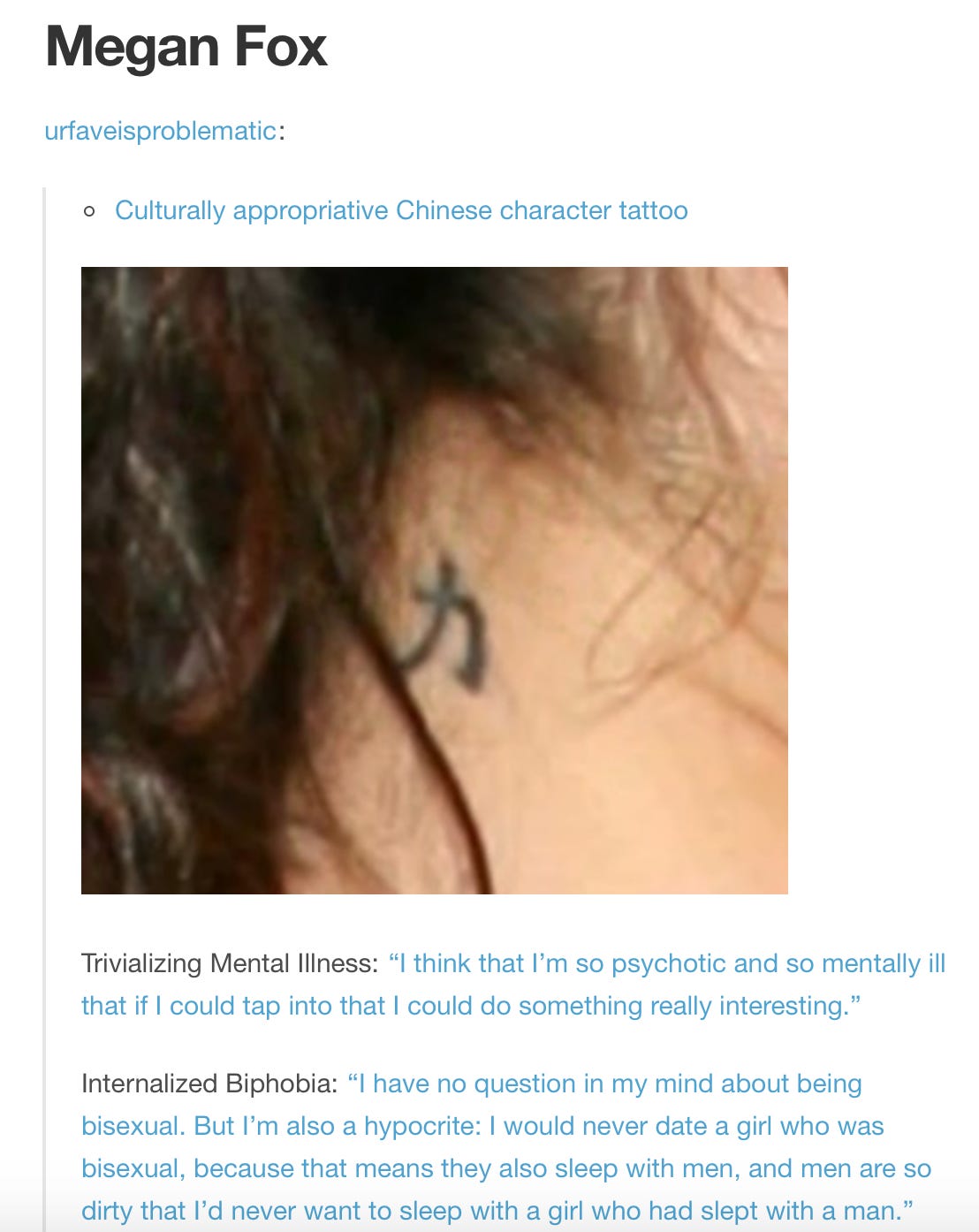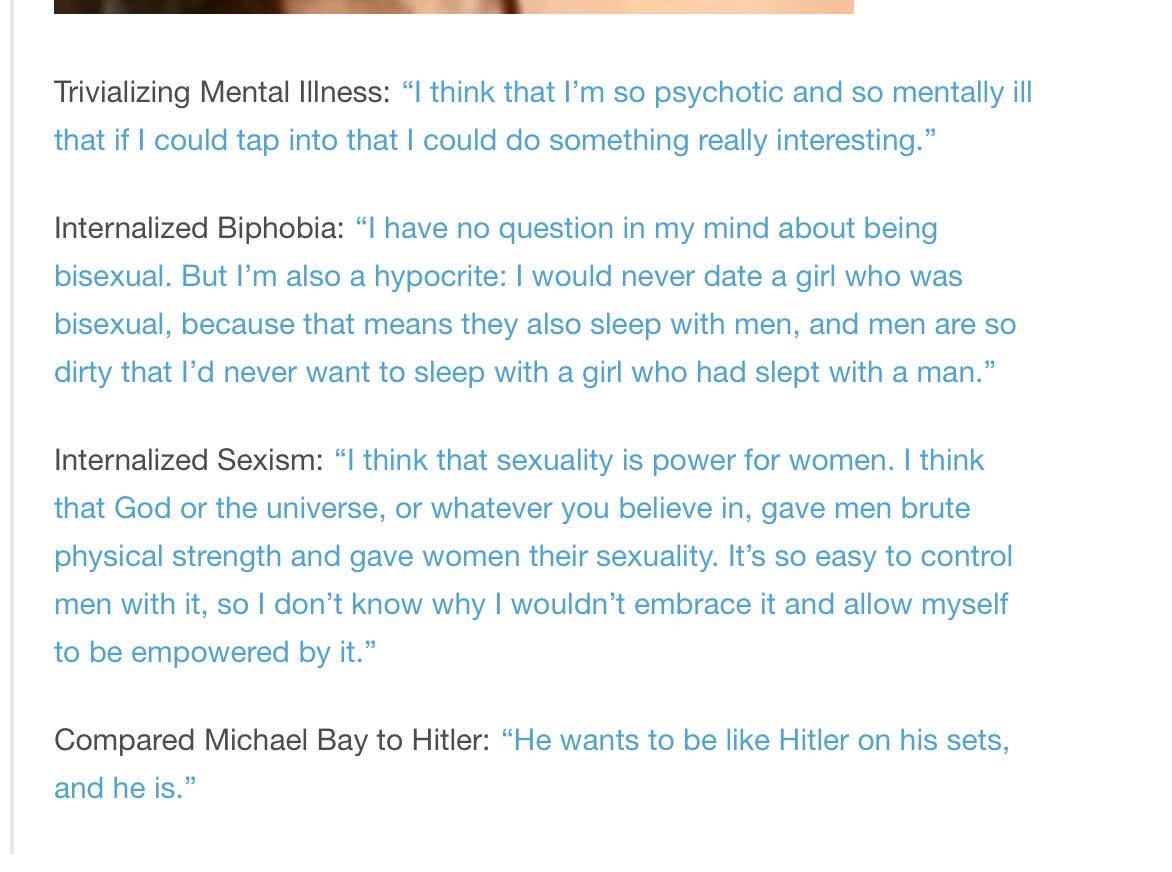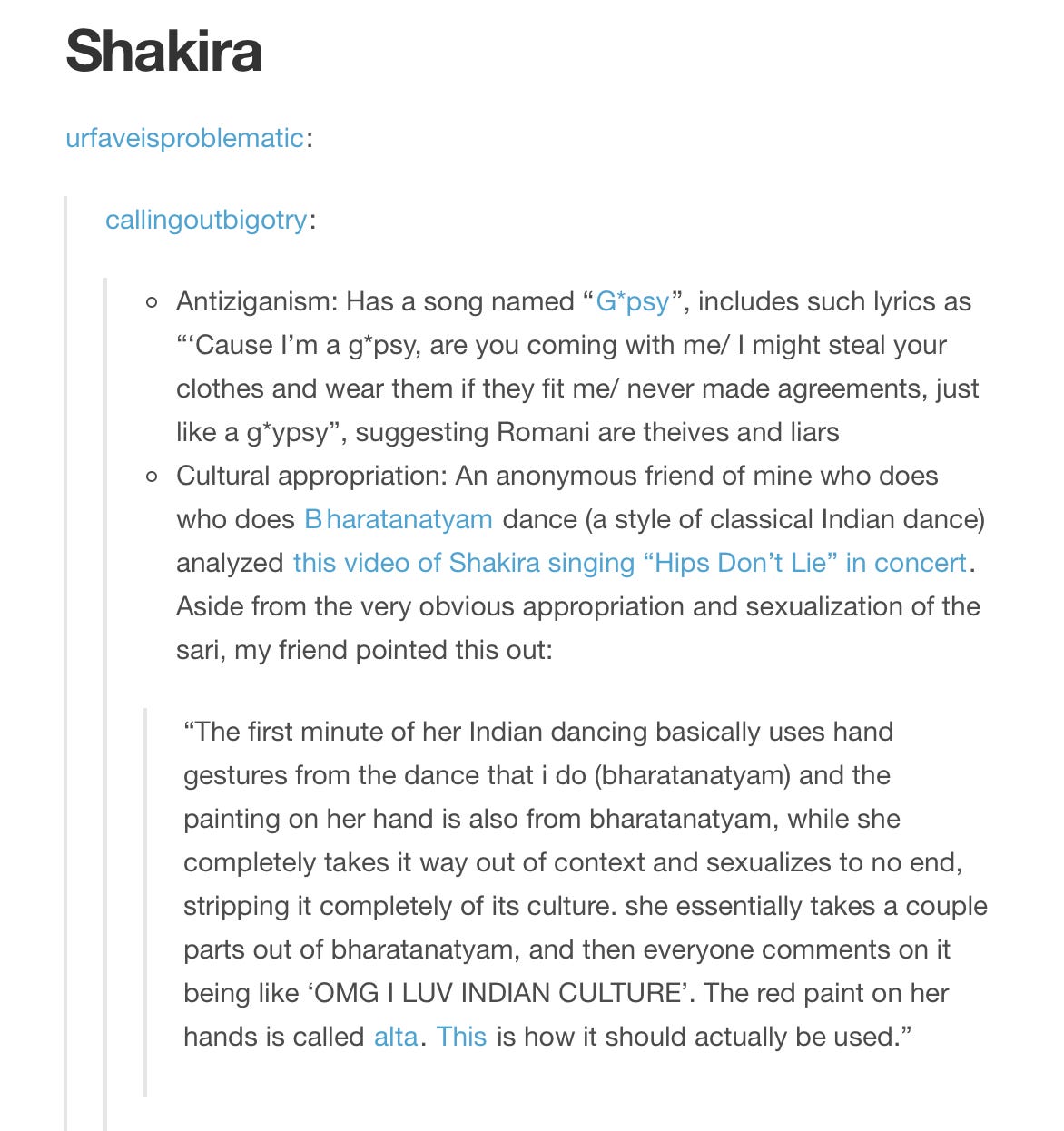 It Has to Stop
The idea that anything a person has ever done should be interrogated, investigated and called out started on the pages of Tumblr where a fundamentalist religion was born. It wasn't called Cancel Culture but when people complain about Cancel Culture a lot of what they are complaining about refers to this ideology — which boils down to purity. How pure are you? How pure can you be on a daily basis is measured by how woke you are which is measured by how strictly you follow the doctrine and bow to the doctrine's demands.
What this eventually cultivated was a generation that needed some kind of shield from online attacks. The last thing you want to be online is a white cis male. White cis female isn't any better but at least you can be one better than the males. But any gender or sexuality fluidity, race identity, even trauma you suffered in your past can work as a shield against persecution. My daughter used to tell me that in high school she didn't have anything wrong with her and that made her feel like an outcast. She said, "I feel like I have to invent something to fit in." If she had an eating disorder, for instance. Sympathy, protection, vulnerability were the forces of good.
Why this matters is that this is what has driven us to a culture that cares about "safety-ism." If you are marginalized or vulnerable you are protected or shielded from online attacks. Now, that has carried over into the real world. A cis white male, for instance, can't say he fears for his safety or would be harmed by, say, an editorial in a magazine. No one is going to care. But if someone who is marginalized does, that carries weight and people are more likely to act to stop a person from feeling harm or unsafe.
While most of us were focused on other things, this purity persecution has thrived and become the norm. All it took was twitter to sign on to it and take what is the ease of information of the internet and turn it into a way of ferreting out impure people, whether they proved it ten years ago or twenty years ago, even forty years ago. It is all fair game and suddenly people are now afraid that something they did or said in their past will condemn them now. This is absurd. Part of becoming a functioning adult is learning from mistakes. You have to be allowed to make them and forgiven for them.
But what you see now is a generation so traumatized by seeing something that breaks the rules or upsets the utopian doctrine of purity that they can't really handle it. I hate to break it to them but there is a very big world out there and not all of it can be schooled to be unproblematic. Some of the best films are very problematic. You can't police everything out of our past - scrub it clean to pretend we actually have the secrets on how to live a pure and perfect life that offends no one.
You might not think pressuring Trader Joe's to change the names of its products from "Trader Mings" or "Trader Jose's" — which reflects the ethnic origins of the types of foods it is selling - is an example of how cancel culture can be dangerous, but the idea that is dangerous is that they had racist or malicious intent. So are people who eat Mexican food also appropriating that culture? Or parents who named their children name from other cultures going to be persecuted and called out so that the children have to change their names? We are dividing up into smaller and smaller groups and saying we are not ever to share or mix or mingle in any way - how is this possibly a good way forward for a melting pot such as America? And how are white people, who are going to be a minority, to find any sort of their own cultural heritage without being seen as white supremacists?
But even that example isn't why so-called "Cancel Culture" is dangerous. If someone loses their job for a perceived slur - like a racist hand gesture - and their character smeared online for it, that is wrong. That removes the benefit of the doubt, at best, and due process at worst. Though it hadn't been seen as a potential government policy, when Alexandria Octavia Cortez tweeted in support of it, without really seeing the difference in what types of cancel culture people are referring to, that put it into the government overreach category. If that is the policy Democrats are backing heading into 2020 and beyond? You can bet it will be fought, resisted and destroyed by the American people who will not tolerate it on a wider scale than the online bubble that created it.
The danger:
—Journalists intimidated when it comes to telling the truth.
—A panopticon leading to subversive existence where people have to hide what they really think and feel for fear of being caught and exposed.
—Conformity of thought is authoritarianism - it does not move the needle in any direction that is good. We are way too invested in this online which is not sustainable.
—Utopias always fail, and so too will this - does the good of Black Twitter go away because of the absurdity of what Cancel Culture has become?
—Already, the Wall Street Journal has picked up on the potential danger of censorship and "wrong-think" - it is about to become much more mainstream
The solution:
Stop firing people.
Stop persecuting people.
Hold accountable only those who have done something wrong - if you are offended that doesn't automatically make it offensive or wrong.
Stop apologizing.
Stand up to Twitter.
Further reading:
In Defense of the Letter [ArcDigital]
Yes, there is such a thing as Cancel Culture [Quillette]
Your Fave is Problematic [Tumblr]
Democracy Dies in Darkness But Don't Blame Trump [Wall Street Journal]
If it's Not Cancel Culture What Kind of Culture is it? [Matt Taibbi]